Innolux, Sharp cooperating on OLED panels
Rebecca Kuo, Hsinchu; Adam Hwang, DIGITIMES [Wednesday 19 April 2017]
Innolux is cooperating with Sharp for R&D of OLED technology and supporting Sharp's construction of a 4.5 OLED factory in Japan, according to Innolux honorary chairmen Tuan Hsing-chien.
EMS provider Foxconn Electronics (Hon Hai Precision Industry) and its subsidiaries made stake investments to become the majority shareholder of Sharp in March 2016. Tuan stepped down as Innolux chairman in June 2016 and was appointed a consultant for the Foxconn Group specifically to promote reform of Sharp's panel business, especially cost reductions.
For panel production in particular, Innolux and Sharp are complementary in terms of technology, production capacity and factory management, Tuan said.
While Sharp has a simple OLED panel production line, Innolux has an OLED experimental line with better equipment. Therefore, Sharp's and Innolux's R&D engineers have jointly undertaken OLED experiments using Innolux's experimental line before Sharp's 4.5G OLED factory is completed, Tuan noted. In April or May, Innolux will send about 10 engineers to Sharp's factory, Tuan said.
In addition to cooperation in OLED panels, Innolux and Sharp may cooperate on IGZO TFT-LCD panels, Tuan noted. As it is relatively easy to transform a-Si TFT-LCD production equipment to producing IGZO TFT-LCD panels, Innolux is likely to provide some of its IGZO TFT-LCD production capacity for use by Sharp, Tuan indicated.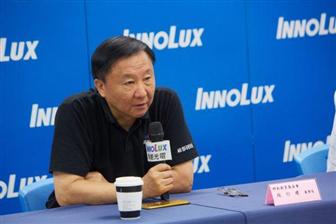 Innolux honorary chairman Tuan Hsing-chien
Photo: Michael Lee, Digitimes, April 2017