56 news items tagged Freescale
Freescale Semiconductor and Samsung Electronics announced their collaboration to address the burgeoning market for energy-saving and environmentally friendly light-emitting diodes...

In line with its goal to sharpen the company's strategic focus on growth markets and its key leadership positions, Freescale Semiconductor announced that it will explore strategic...

After acquiring Solomon QCE in the beginning of the second quarter this year, sales of Taiwan IC distributor WT Microelectronics have been growing rapidly. However, the company holds...

With MediaTek announcing that it is sampling its 3G WCDMA solution with customers at the end of 2008, the company joins the competition in the global 3G handset chipset market with...

During the recent Freescale Technology Forum (FTF) in the US, company senior VP, chief sales and marketing officer Henri Richard noted that one of the great pleasures he has had since...

Freescale Semiconductor recently introduced the industry's first multi-standard baseband accelerator device (MSBA8100) that supports 3G-LTE, wireless WiMAX, HSPA+ and TDD-LTE standards,...
Related photos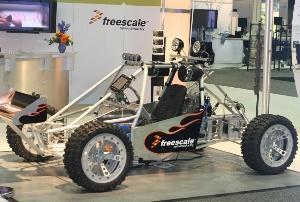 Freescale to showcase industrial, automotive and consumer electronics innovations at Electronica 2006
Photo: Freescale, Friday 10 November 2006
Related news around the web