Located at Hsinchu Science Park in Taiwan, Proscend is among the leading global providers in industrial-grade wire and wireless communications products and solutions. Proscend has established strong sales presence in many countries known for requiring the highest quality standards such as Japan, Germany and France, and deployed products into their major national infrastructures.
Long before the New Southbound Policy launched by the Taiwanese government, Proscend had already gone deep into India market for over a decade and established a subsidiary company providing high-performance industrial-grade mobile wireless and commercial-grade wire communications devices as well as collaborating with the leading local telecommunications company, Bharti Airtel.
In the early stage of its business, Proscend focused in research and development of xDSL (digital subscriber line) technology and soon became a market leader in supplying SHDSL products and solutions. Based on its core technologies in hardware and software of xDSL, Proscend is among a few manufactures in the international market supplying innovative networking products like VDSL2 SFP transceivers and long reach PoE solutions fulfilling various high-bandwidth demands for video and voice transmission. With professional technical strength, Proscend cooperates with its worldwide partners and is awarded with projects from Japan Railways, Paris Metro, and Electrical substations in Germany.
Because of overwhelming growth in IoT applications, network security is becoming an important issue for every user in home environment, building surveillance and transportation. It is even more critical for industrial users in the utility fields for M2M (machine to machine) connectivity and applications. Featuring built-in VPN Security, Firewall and cryptographic protocols, like TLS, SSL and SSHv2, PROSCEND delivers a comprehensive series of industrial-grade 4G LTE cellular routers which allows industrial users to build a strong defense for cybersecurity and makes secure and reliable transmission possible in harsh environments.
Furthermore, Proscend's industrial-grade 4G LTE cellular router series is fully integrated with its newly self-developed ISMS (Integrated Service Management System). ISMS is an intelligent cloud-based management solution which enables implementation and integration of information flow and logistics in industrial automation fields as well as ensures the processes are always reliably interconnected. In the future, the processes of connections among machines and the devices will require high-capacity bandwidth, and more importantly the solutions and services to manage network communications control among the equipment in the diverse fields.
We know the industrial market is the significant indicator of IoT. Proscend is dedicated in developing mission-critical communications applications for Industrial IoT and enhances its comprehensive product portfolio from IP30 to IP68 ratings with the functions of Wi-Fi, GPS and PoE. Proscend attaches closely with worldwide clients for customizing intelligent software and hardware to achieve their specific requirements and continues providing valuable and innovative products and services.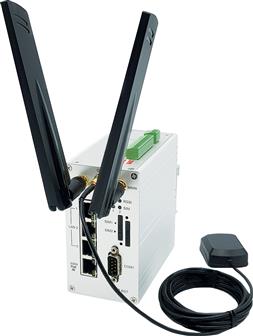 The standard model of industrial-grade 4G LTE PoE cellular router
DIGITIMES' editorial team was not involved in the creation or production of this content. Companies looking to contribute commercial news or press releases are welcome to contact us.