In recent years, there have been a variety of technology trends relating to the digital home. The most important of these trends is the development of home network technology. Whether you look at externally connected broadband Internet technology, or network connectivity within the homes, the need for solid technological standards is obvious. Therefore interoperable standards for digital home connectivity have been adopted as wireless 802.11, Bluetooth, Ethernet, and HomePlug.
Power line communication (PLC) technology has previously been difficult to popularize due to skepticism on transmitting IP packets across 110V or 220V power lines as well as how this technology would address electromagnetic interference (EMI). These difficulties have long been overcome and the technology has reached a stable and mature stage. Today, Ethernet adapters using PLC have easy plug and play installation onto electrical outlets in any room. This technology comes perfectly at a time when more homes are equipped with multiple digital devices and entertainment centers looking to share the same multimedia files amongst themselves.
The broadband PLC market was split into three camps. Now, it has aligned behind the HomePlug Powerline Alliance (HomePlug) which has the longest history. Founded more than a decade ago, it consists of 65+ companies and has certified some 220 products. More than 90% of PLC products on the market make use of HomePlug technology. HomePlug also has been standardized by IEEE in 2010, becoming the IEEE1901 power line transmission standard.
HomePlug technology has advanced from HomePlug 1.0 with the speed of just 14Mbps, to 200Mbps with the HomePlug AV standard, to the imminent launch of HomePlug AV2 with speeds in the Gigabit range. The wave of enthusiasm for digital home over the last few years has increased consumer demand for multimedia streaming applications, placing HomePlug AV, with its 200Mpbs bandwidth, as the perfect solution for such digitally-minded consumers. The HomePlug Alliance is also working on its new IEEE1901 compliant Green PHY standard for smart power grid applications. HomePlug Green PHY is aimed at smoothly integrating power management and high speed networking of various types of devices.
According to Jay Cheng, CEO and chairman of GigaFast Ethernet, HomePlug Green PHY is used for low-speed signal transmission over the power grid. It will be integrated into household devices for reporting power consumption status using the PLC network, helping power companies and ordinary users properly manage power consumption. For example, a HomePlug Green PHY-compliant chip embedded in the electricity meter will automatically calculate consumers' power usage. The connected electricity meter will also allow power companies to create power usage plans for low-intensity and high-intensity periods, in order to balance power loading and increase efficiency of power delivery.
GigaFast already has over a decade of experience in engineering and manufacturing HomePlug PLC products for OEM/ODM partners around the world. Having chosen to prioritize the development of PLC over wireless at an early stage, Cheng indicates that GigaFast was early to see the convenience of installing HomePlug products and the potential for developing the digital home. For this reason, nurturing the necessary technologies and talent has been at the heart of the company's mission from the very beginning.
GigaFast exhibited two main products at the recent two consumer electronics shows: CES and CeBIT. Both products at these shows were very well received. The first was a 500Mbps HomePlug AV Powerline Ethernet Bridge, using Atheros chipset, to expand the transfer rate of HD signals, while the second was a HomePlug AV with Clearpath Technology by Sigma Designs that uses all three wires - phase, neutral, and ground to deliver improved performance and up to twice the throughput. More recently, GigaFast has responded to the increasing popularity of IPTV by working on ways of integrating HDMI signals and PLC systems. This will let more products make use of household power transfer to enable the reception of DVR signals in different rooms, allowing PLC to become a central nervous system for information, which integrates electricity, networking and multimedia.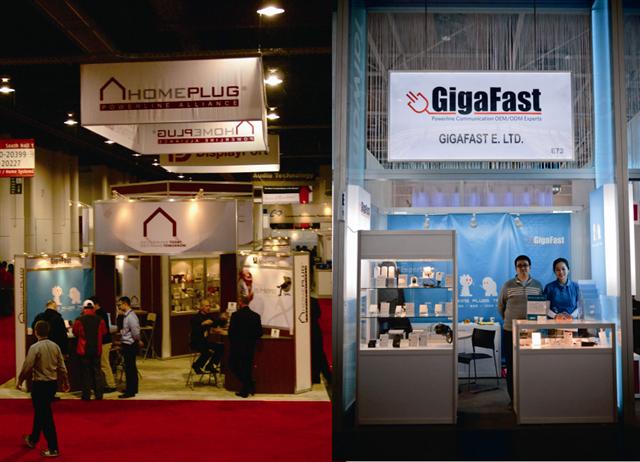 GigaFast demonstrates HomePlug PLC products at this year's CES and CeBIT
Photo: Company
DIGITIMES' editorial team was not involved in the creation or production of this content. Companies looking to contribute commercial news or press releases are welcome to contact us.