The 2007 Taipei Game Show is currently running at the Taipei World Trade Center, Hall 1, from February 8-12. From the top upcoming gaming titles, to hot hardware bargains, DigiTimes Hot Systems brings you exclusive coverage of the the show's highlights.
Microsoft has gone all out to make the Xbox 360 the star attraction of the show. An expansive stage in distinctive white and green colors, and a packed gaming floor gives visitors a chance to enjoy first-hand some of the games the Xbox 360 has to offer. Microsoft's partner on the games floor is BenQ, which has supplied enough LCD TVs to ensure that everyone gets to experience next-gen gaming in all its high-definition glory. Through an exclusive Taipei Game Show deal, gamers can take home an Xbox 360 Core package and a BenQ 37-inch or 42-inch HD LCD TV for NT$49,900 or NT$69.900 (US$1,210 or US$2,116).
For those who just want an Xbox 360, Microsoft is also offering a bundle pack including console, hard drive, two controllers, a headset, and the top title of 2006, Gears of War, for a special-show price of NT$13,980.
Though the Xbox 360 has a big presence at the show, both the Nintendo Wii and Sony PlayStation 3 are conspicuously absent.
On the PC side, small form factor PC maker, Shuttle has teamed up with Microsoft Games Studios to supply several XPC systems on which visitors can play Microsoft Flight Simulator X and Age of Empires III.
After selling over two million copies on the first day of its release in Europe and the US, World of Warcraft: The Burning Crusade (WoW:BC) is getting ready to launch in Taiwan in the first half of this year. As befitting a fantasy-based role-playing game, WoW:BC's presence at the show includes lots of people dressed up in costume. Also 5-on-5 player-versus-player (PvP) tournaments are being held to let gamers show off their skills.
Another hot title that's coming to Taiwan this summer is post-apocalyptic RPG, Hellgate: London. Visitors brave enough to enter the darkened show area are brought face-to-face with life-size models of monsters from the game. Those with the stomach to make it through to the next area are rewarded with the opportunity to play the game thanks to the game's publishers and hardware supplied by Asus.
Details for the 2007 Taipei Game Show

Item

Detail

Venue

Taipei World Trade Center Hall 1

Dates:

Feb 8, 2007 (Thu) - Feb 12, 2007 (Mon)

Opening Hours

10:00 a.m. - 6:00 p.m. (2/10, 11 extended to 8:00 p.m.)
Source: Taipei Game Show, compiled by DigiTimes.com, February 2007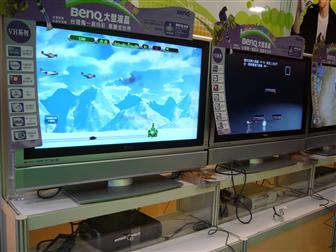 Experience next-gen gaming in high-definition with the Xbox 360 and BenQ
Photo: Ricky Morris, DigiTimes.com, February 2007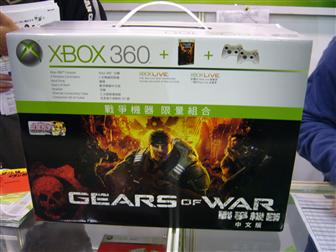 Xbox 360 and Gears of War bundle pack – cheap
Photo: Ricky Morris, DigiTimes.com, February 2007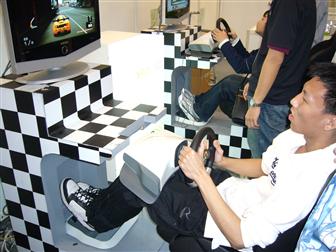 Go head to head on Project Gotham Racing with the Xbox 360 Wireless Racing Wheel
Photo: Ricky Morris, DigiTimes.com, February 2007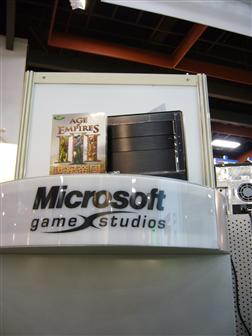 The Shuttle XPC SN27P2 and Age of Empires III
Photo: Ricky Morris, DigiTimes.com, February 2007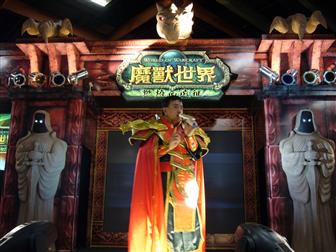 World of Warcraft: The Burning Crusade, coming soon to Taiwan
Photo: Ricky Morris, DigiTimes.com, February 2007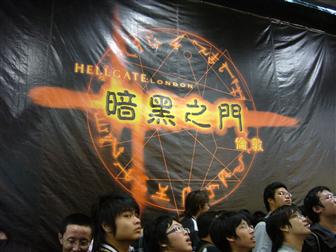 Get ready to enter Hellgate: London, summer of 2007
Photo: Ricky Morris, DigiTimes.com, February 2007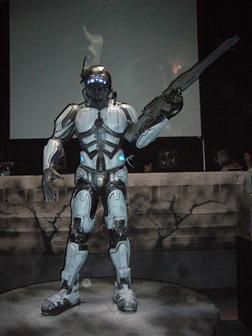 A character from Hellgate: London – Big!
Photo: Ricky Morris, DigiTimes.com, February 2007