Coretronic Corporation (hereinafter referred to as Coretronic Corp), a world leader in digital projectors and LCD backlight panel technologies, has implemented its group transformation plan since 2018 after recognizing the global digitization trend. Coretronic Corp has established eight subsidiaries based on image recognition, AI, perception fusion, and cloud added value services. Among which, Coretronic Intelligent Logistics Solutions Corporation (CiLS), established in April 2021, is positioned as an "intelligent logistics and smart production digital system solutions provider".
CY Lin, Chairman of CiLS, stated that Coretronic Corp provides a wide range of products, including parts, modules, smart terminals and systems. It also covers A type factories and V type factories. With its many years of intelligent value adding and transformation experiences, CiLS has become an expert in digital integration and innovative technologies. CiLS provides customized, modularized, and localized services for manufacturing/logistics companies, which include shelf design, automated warehouses, autonomous moving, IoT equipment, management systems, cloud platforms and other integrated factory plans to create cost-effective one-stop solutions. CiLS help internal and external customers to accelerate their digital transformations.
Realizing the Benefits of Preventative Maintenance through Sensors and AI Analysis
Maggie Lu, President of CiLS, stated that in the current stage, CiLS is starting with the group's AMR autonomous forklifts, automated guided vehicles, smart sensor modules, AR glasses and other smart terminals, and combining the internal MIS and automation team, to develop the Coretronic Industrial IoT Platform. It assists companies who intend to introduce intelligent manufacturing and logistics. CiLS has created a private cloud platform and collects large amounts of IoT information for AI analysis, realizing the goal of operational improvements. CiLS provides the customers with flexible, customized lightweight solutions, from observing the site and understanding the problems to providing solutions, the process totals around three months
In terms of intelligent manufacturing, CiLS can assist customers with the collection and analysis of IoT, Shop Floor Control System (SFCS), MES, ERP and B2B transaction data. Consequently, the user can quickly implement the required smart applications through different interfaces and mobile devices. The iMCS (micro services system) core software architecture was established to realize centralized management and decentralized control, which can collect personnel, process, machine, environment, material, and measurement information. Together with manufacturing dashboards, mobile devices or manufacturing information centers, they system can visualize the status of the entire production line or factory.
For example: A metal precision finishing plant felt that the manual recording of equipment and production statuses is time consuming, labor intensive and inaccurate. This delays the collection of manufacturing information and makes it difficult to adjust the production lines in time. With CiLS's assistance in the introduction of smart sensors and the establishment of mold management and material tracking product resumes, the factory can clearly track the WIP and output, establishing advanced scheduling and smart order mechanism that could not be realized in the past.
Maggie Lu said, "Through Coretronic Corp's MEMS vibration sensors and AI smart box, we can monitor the health of the machinery. With the further integration of quality analysis, preventative maintenance can be fully realized." By introducing CiLS industrial AI sensor solutions, companies can fully monitor failure symptom of equipment degradation and implement predictive maintenance in right time, reducing maintenance costs and shut-down losses. Key parameters related to quality deficiencies can be accurately identified through cross-analysis and then related problem can be further fixed. Efficiency and output value can be actively improved. Companies no longer need to passively repair equipment after damage.
Offering Complete Intelligent Logistics Services through the Integration of Software, AMR and AS/RS Designs
In terms of intelligent logistics, CiLS can provide automated guided vehicles and forklifts, realizing intelligent identification of storage locations and pallets and autonomous transportation. On the other hand, CiLS provides the intelligent warehouse management system (iWMS). The iWMS can link to ERP, MES and VMS vehicle management systems to fully manage vehicles, barcode scanners, automated equipment, AS/RS automated warehouse systems and other objects. The system is connected to IT and OT, providing a comprehensive integration that is rare in the industry. With integration of information flow and logistics, it can solve the problems of labor shortages, human operational errors, and inefficient usage of storage space.
Therefore, functions that required the operation of ERP, such as patterning, material scheduling, material unpacking and material replacement, or searching for storage spaces and monitoring AMR moving operations can be directly operated onsite through a Pad or handheld devices, making the operational performance more agile and precise.
Maggie Lu further talked about the example of assisting a factory in the southern Taiwan introduce intelligent logistics in the early stages. In the past, the factory used manual driving forklifts to move products across the factory and onto different floors. It was hard to manage the vehicles, personnel and forklifts. Therefore, CiLS introduced autonomous forklifts into the factory. The forklifts can move and transfer the orders on their own and can ride the elevators autonomously. Combined with the identification of RFID on the boxes, it fully integrates the logistics and information flow data and can link with the ERP system. The factory no longer need to wait for personnel to verify the information in different systems, improving moving efficiency by 25% and information accuracy reached 100%.
Overall, besides having the strengths of the core software and intelligent terminals, the CiLS Intelligent Logistics Service works with experts in different fields to help customers design different AS/RS automated warehouses and choose different product picking devices, providing fully integrated services.
CY Lin pointed out that due to the pandemic, CiLS has been focused on servicing domestic customers in the first year of company establishment. It targets on precision finishing, plastics injection, PCB and other industries for providing intelligent manufacturing services. Its intelligent logistics service scope focuses on factory logistics. In the next two years, as the development of intelligent terminals (from the introduction of AMR for various moving vehicles or material picking AMR with robotic arms) and sensors (from vibration sensors to other sensors) continues to add the solutions, CiLS hopes to expand the industries and regions of its services to increase higher service value.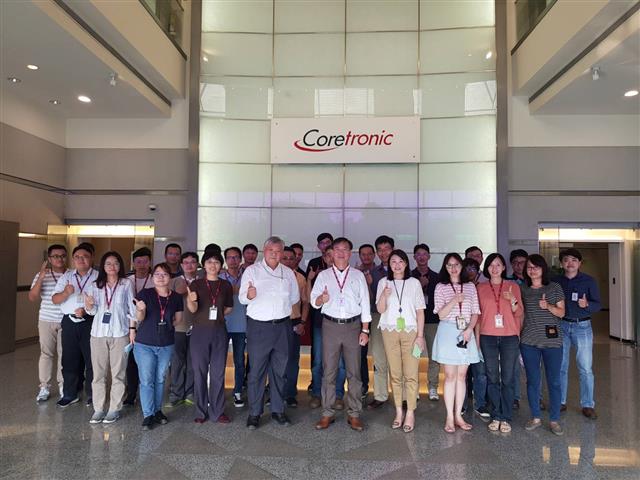 Coretronic Intelligent Logistics Solutions Corporation (CiLS)
Photo: Company