DTS, a global leader in next-generation audio, imaging and sensing technology and a wholly-owned subsidiary of Xperi Holding Corporation, have announced that Novatek Microelectronics, a major chip supplier for TVs, will be supporting DTS Play-Fi on its line of SoCs targeting the TV market.
DTS Play-Fi adds category-leading wireless audio features to TVs including whole-home TV audio streaming, multi-room music playback from leading music services, app-based headphone streaming with Wi-Fi range, and immersive surround sound. Because Play-Fi works over industry-standard Wi-Fi, no additional hardware is required in the product's design, and manufacturers can add advanced wireless capabilities across a wide range of price points within their product portfolio.
Novatek, one of the world's largest semiconductor chip suppliers for TV displays, will be supporting DTS Play-Fi on their latest Smart TV SoC solutions. Licensees will be able to leverage Novatek's turnkey solutions to build TVs that seamlessly connect to Play-Fi compatible amplifiers, soundbars, speakers, and subwoofers. Play-Fi is used today by over 30 brands and is featured in hundreds of products. These products, irrespective of brand, can be used in conjunction with Play-Fi-enabled TVs to create surround sound and whole-home audio solutions.
"With the rise of multi-channel streaming content from major services, more people than ever can create a theater-like experience in the comfort of their living room," said Jimmy Su, VISG GM, Novatek. "Play-Fi lets consumers do it without the impediment of unsightly wires, cables or adapter boxes, while Play-Fi's innovative use of Wi-Fi lets TV manufacturers avoid adding additional hardware costs to their design."
"Novatek's SoC solutions power many of the best brands and TVs in the market today," said Dannie Lau, general manager, DTS Play-Fi. "Through Novatek's support of DTS Play-Fi, manufacturers can now leverage these solutions to quickly bring TVs with powerful wireless audio capabilities to market."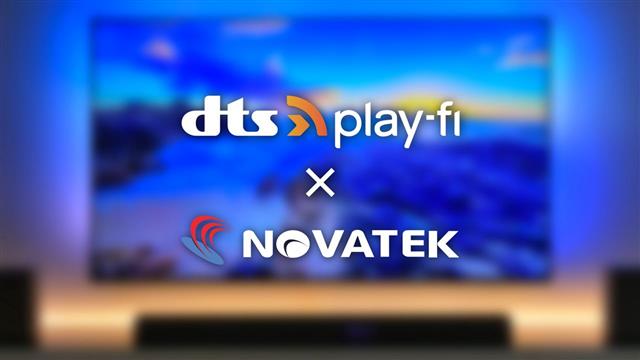 DTS x Novatek