Disconnected ICT Supply Chains: New Power Plays Unfolding written by Colley Hwang, founder & president, DIGITIMES, is among the very few books available at present that take an in-depth look into current global supply chain developments. It immediately grabbed industry attention after publication in late May 2020. A group of industry leaders gathered at a book reading event at the end of July to share their experiences in coping with COVID-19 impacts over the past six months and validate the visions given in the book.
In his opening remarks, the event host, Winston Hsu, professor, Department of Computer Science and Information Engineering, National Taiwan University, noted the enormous impacts COVID-19 is exerting on industries worldwide. The US-China trade tension that started in 2018 also has far-reaching implications for global industries. The two factors have fundamentally changed the world economy and industry dynamics going forward. However, not all are suffering from the changes.
The industry leaders taking part in the event agree with Hsu. They generally think it is imperative that corporations stay on top of current trend of events whether it's COVID-19 or US-China trade tension. The firms that are able to turn crisis into opportunity and benefit from the situation are those well prepared at the onset of the trade tension or the pandemic. When faced with the changes, they can immediately implement strategic moves that allow them to reduce dependency on suppliers and maintain normal business operation.
From a macro perspective, few companies can take preemptive actions and make the right decision at the right time. Most business operators admit they were taken by surprise when first confronted with supply chain disruptions. However, as they worked hard to address all sorts of challenges over the past six months, most businesses have established contingency measures, the most common among which is the use of wide-ranging remote collaboration technologies to enable uninterrupted communication both inside and outside the company.
The participants shared their practices and thinking with respect to teleconferencing and online tools at the book reading event. Businesses have grown accustomed to using remote collaboration platforms over the past few months. However, the challenge is not how to make use of such platforms internally to hold meetings but how to use them to generate sales leads. A corporate leader drew on his company's experience and emphasized the necessity to adopt new thinking and new practices. For example, his team set up a live webcast studio in the company and produces online content in a systematic approach, which presents product information to customers clearly and efficiently. More than that, it also provides a means for delivering customer care and maintaining customer stickiness, free of COVID-19 influences.
Talking about COVID-19 impact on the industry as a whole, the participants uniformly pointed out that businesses scrambled to grab supplies from the market out of a strong sense of crisis in the first and second quarter. This even resulted in record-breaking revenue for some vendors in the first half of the year. Going forward into the second half of 2020, the outlook does not seem promising with COVID-19 still going strong. A participant raised a different point of view, saying that the pandemic will fall under control sooner or later, possibly by 2021 when vaccines become available. As consumers and businesses reduce spending in the wake of COVID-19, they keep a large sum of cash on hand. As such, after COVID-19 passes, the market will enjoy a strong rebound. Businesses need to start planning in the second half of 2020 if they want to capture opportunities coming up in 2021. For example, the participant's company plans to move from defense to offense starting in the third quarter while picking up the pace with its undertakings. In sum, COVID-19 will spur a market reshuffle and businesses that are hunkering down also need to closely watch market changes and act swiftly when opportunities arise.
Industry changes occurring at present include not only those to internal corporate operations but also those in external industry environments. Following a disconnected supply chain, deglobalization is definitely coming. Corporations' global operations must take localization into consideration, leverage local workforces and adapt to local cultures and policies. For example, in China, the government will impose more rigorous standards toward IT equipment purchase in view of the US-China trade tension, making it difficult for firms with American affiliations to do business in China if they continue with their old sales approach. They will have a better chance if they transition from selling hardware systems to providing software services. Such a business model will work not only in China but also in the rest of the world.
Aside from the pandemic, 5G and AI are also major trends dictating industry changes. According to Hsu, the industry has been treating the two technologies individually. A look into market dynamics over the recent two years indicates that 5G and AI developments will integrate. More than AI, 5G will be combined with a slew of other new technologies including big data analytics, cloud computing and block chain. 5G- and AI-enabled devices will become standard equipment to all sorts of industrial systems. Commenting on industrial applications, a participant noted smartization is well underway across different industries and called on vendors to keep a close watch on developments in various fields. Healthcare and manufacturing are the two focus areas at present. AI applications in healthcare may be catching more attention but there are high barriers across different medical specialties, which prevents the sharing of AI training models and thus slows down AI popularity. To address this, industrial alliances should be formed to share R&D results. Manufacturing, on the other hand, is among the very few areas where profit has been made with AI implementations. Nevertheless, vendors looking to expand into AI for manufacturing are advised to develop products with differentiating features so as to successfully tap smartization opportunities.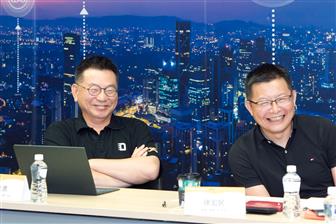 Colley Hwang, president, DIGITIMES (left), and Winston Hsu, professor, Department of Computer Science and Information Engineering, National Taiwan University (right)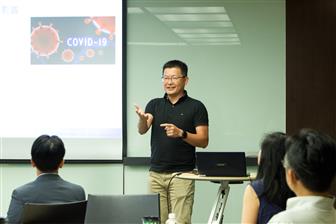 Winston Hsu analyzing the influences of COVID-19 and US-China trade tension on Taiwan's industries
DIGITIMES' editorial team was not involved in the creation or production of this content. Companies looking to contribute commercial news or press releases are welcome to contact us.