Since British technology pioneer Kevin Ashton coined the term "Internet of Things" in 1999, IoT development has undergone several stages including "terminal connection" and "platform analysis" before being integrated with artificial intelligence (AI) into the current AIoT, achieving multiple applications in diverse domains such as smart home, the Internet of Vehicles (IoV), and smart manufacturing. In future combination with 5G, AIoT will penetrate into more vertical markets faster to generate immense business opportunities by leveraging 5G's broad bandwidth, low latency and huge connectivity.
At the IoT Innovative Developments Forum organized by Digitimes during Computex 2019, speakers from many leading firms - from diverse sectors, including cloud service, industrial PC, e-paper, testing and validation service, and semiconductor - provided insights into IoT development.
IoT applications cannot be materialized without the combined support of bottom-layer sensors, middle-layer gateways and upper-layer cloud platforms, with every node requiring semiconductor technology to serve as the development basis.
Sahil Bansal, senior director of product management at Qualcomm, noted that the firm's Vision Intelligence Platform integrates such elements as image signal processor (ISP), high-speed AI engine, machine learning and computer vision software development kit (SDK), generating more space for imagination about the applications of robots, industrial cameras, wearable cameras and VR cameras.
Robert Chang, associate director for IoT market development at Avnet Asia, stressed that hardware devices alone are not sufficient to support whole IoT application scenarios, and therefore his company has been aggressively developing cloud data, AI and IoT PaaS platforms, seeking to build one-stop service niches and help clients accelerate design, development, volume production and sales deployment of IoT products.
KiPhone Lin, associate vice president of IPC maker Advantech, opined that the forces of ecosystem partners count greatly in bringing AIoT applications into full play.
Kyle Lee, deputy director of IoT PM division at E Ink Holdings, also noted that electronic paper, featuring low power consumption, visibility under the sun, super-wide viewing angle and flexibility, can serve as best displays in many IoT application environments.
David Feng, intelligent cloud & edge lead at Microsoft, emphasized that IoT projects are usually very complicated, and comprehensive smart cross-cloud and edge-to-device architectures are badly needed to simplify the complexity.
Arvin Ho, vice general manager at TUV Rheinland Taiwan, reminded that IoT device developers must select proper networking technologies or their devices may need to undergo renewed testing and validation processes.
In analyzing the evolution of global IoT ecosystems in 2019, Jim Haiso, an analyst at Digitimes Research, pointed out that the ever-expanding cellular networks, LPWA (low power wide area) networks, IEC 62443-4-2 safety standards and IoT platform ecosystems will be a trend deserving great attention.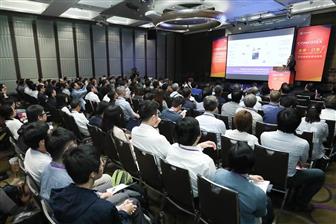 IoT Innovative Developments Forum organized by Digitimes during Computex 2019
Photo: Michael Lee, Digitimes, May 2019