Modeling trend raising AVEXIR worldwide brand awareness
Sponsored content
Memory modules are practically standardized products to consumers among those produced by different key makers. However, AVEXIR Technologies has something unusual gaming products to showcase at 2015 Computex Taipei.
The company is established nine years ago, started its business from scratch, with no support from any powerful investor and no customer base. Cornered by strong competitors in the field, AVEXIR seemingly had no chance to succeed at all but it now stands as a global leading brand of high-end gaming memory products. One can't help but wonder what has sharpened AVEXIR's competitive edge.
Due to similarities of product features and appearances, memory module makers are often limited by product itself. Therefore, the memory module market has provided few sensational products that could attract attentions. However, in 2011, Avexir has launched Core Series, it proved that memory products could have breakthroughs and could show up in a new form much like a boutique item.
AVEXIR core series surprised game players as it was the first memory module able to emit dazzling light through multiple colors of LEDs and light guide bar, allowing the memory to blink in a rhythm as if it were breathing. What enabled this unique feature was AVEXIR's intelligence patented technology. Now in 2015, AVEXIR is launching the Raiden series with effects resembling lightning created by an unprecedented application of patented plasma tube technology, bringing gamers more exciting and true-to-life experiences.
As a matter of fact, the introduction of the AVEXIR core series not only kick-started the trend of "glowing memory" but also ignited a computer case modification (case modding) craze. People now seek dazzling cool effects, instead of efficiency, for their computer cases, graphics cards, and even motherboards. Take the casing for example, transparent side panels that allow consumers to see the lights as well as internal components including the motherboard, graphics card, heat sinks, and memory modules are gaining popularity in recent years. Color coordination and exterior design are also appealing to consumers.
Computer case modification frenzy boosting red hot demand for AVEXIR memory
As a result of the modding frenzy, AVEXIR memory modules have emerged as a top choice for gamers. Furthermore, various AVEXIR patented strip lights have attracted a host of motherboard and computer peripheral makers to seek license from AVEXIR.
"AVEXIR's brand awareness is rapidly rising not only to outstanding product performance but also to three major advantages – innovation, customization, and differentiation," indicated by Hans Cheng, General Manager, AVEXIR Technologies. The company has created glowing, breathing, lightning-flashing memory modules with unsurpassed originality, which has enabled it to win the Germany iF design award three years in a row. AVEXIR has continuously broken through the barriers and limitations of memory module design and made undoubtedly remarkable achievements in product innovation.
Following the launch of AVEXIR core series that made AVEXIR a well-known brand, AVEXIR then kicked off the AVEXIR DIRECT service, providing gamers around the world with choices of heat sink styles, capacities, specifications, and LED colors selectable online as well as name inscriptions on SPD and heat sinks. AVEXIR is able to offer powerful customization for gamers to build unique memory modules of their own.
In terms of differentiation, it is what enables AVEXIR to fuel the modding craze. Cheng states the AVEXIR core series offers six choices of color - blue, red, yellow, green, white, and orange - for mix-and-match with the motherboard look and color to create an optimum visual effect and distinctive style. In fact, AVEXIR and its partners have all noticed high-end gamers are seeking consistency in the style of their computers, and therefore are engaging in cross-industry partnership projects for joint marketing purposes.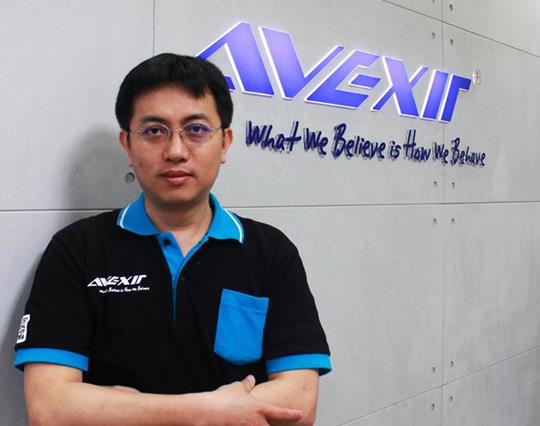 Hans Cheng, General Manager, AVEXIR Technologies, sums up that the company is winning industry recognition for its product performance, ability to innovate, and patented technologies, enabling numerous cross-industry partnership opportunities
Photo: Company