DTS:X is free from channel and speaker restrictions, facilitating delivery of immersive sound
Sponsored content
According to experts, the multichannel audio-visual applications market has rarely failed to wow users, having introduced stunning innovations almost every year. In 2015, the most exciting innovation is no doubt the DTS:X technology unveiled at CES at the beginning of the year. As the name suggests, the technology is a creation of DTS, with the most important feature being object-based sounds that can be accurately placed by the content creators and flexibly controlled and adjusted according to the venue where the audio-visual content is played back.
A look at the digital theater server market in the Asia Pacific region will show that GDC Technology has been one of the market leaders. The firm has high market share in China and the Asia Pacific region and its focus for 2015-2016 is to install licensed DTS:X solutions at nearly 350 theaters across the Asia Pacific region, including in Taiwan. Hence, Taiwan's audiences will be able experience realistic, immersive sounds provided by the DTS:X next-generation audio technology in 2015.
According to Aaron Chen, general manager of sales at the DTS Taiwan Branch Office, DTS:X technology solutions are not only meant for movie theaters but also for coding and sound mixing during upstream film production, as well as for end-market home theater systems. The birth of DTS:X was enabled by a breakthrough in the traditional Ultra HD (UHD) surround sound processing technology to form a next-generation audio technology that is not tied to specific sound channels and speaker configurations.
Chen further explains that the traditional home surround sound system is set on one platform and requires multiple sets of speakers and pre-baked 2.0, 5.1, or 7.1 sound channels to allow the sound changes from speaker to speaker to create the surround sound effect. When the number of sound channels increases, the restrictions on the settings become more stringent, making it difficult to have leapfrogging development. This has prevented surround sound technology from keeping up with the rapid development of the imaging technology until the birth of DTS:X, which now allows home theater owners to customize and adjust the sounds to personal preference. For content creators, the technology allows them to make changes according to the different types of physical space and bring the listening experiences to a whole new level.
Immersive sounds can be delivered even from entry-level playback systems
The core of DTS:X is the multi-dimensional audio (MDA). For filmmakers, this is a major breakthrough in audio coding technology that uses a brand new way to control the placement, movement, and volume of sound, providing an open-source platform for creating content with object-based immersive audio. This is very different from similar types of technology in the market that require enormous licensing fees and the employment of engineers to verify the coding process. More importantly, once DTS:X finishes editing the content, the immersive sounds will be maintained at the same optimal settings from cinema to home theater using either high-end or entry-level playback systems. Even with static signals, the sound effects are still natural and smooth. No wonder DTS:X has wowed the film industry, with many major Hollywood studios adopting the technology. This has also helped DTS:X rapidly spread into the theater server, AVR, and home theater system markets.
Against this backdrop, after DTS launched the DTS:X technology in the first quarter of 2015, top AV receiver brands that combine for close to 90% of the market, such as Denon, Integra, Marantz, Onkyo, Pioneer, Steinway Lyngdorf, Theta Digital, Trinnov Audio and Yamaha, all plan to introduce DTS:X AVR products in 2015. In particular, Denon AVR-X7200W and Marantz AV8802 have already been launched in the market, with DTS:X firmware upgrades coming later this year . As for the upstream AV amplifier chip solutions, the technology has also received support from several digital signal processor providers such as Cirrus Logic, Analog Devices, and Texas Instruments, all of whom have confirmed they will introduce DTS:X solutions.
DTS:X and Headphone:X - the highlights of 2015
The key benefits of DTS:X for home theater system owners are the personalized and flexible control modes that allows them to optimize their sound experiences. Among the key highlights are backward compatibility, which accommodates existing DTS coding streams to provide enhanced immersive sound experiences. The technology also supports flexible speaker and room configurations. The technology can present the best immersive sound quality as it supports any speaker configuration in a hemispherical layout based around the listening position in the room. This is consistent with the DTS goal of "making better sound through constant innovations."
Chen noted that in order for Asia Pacific consumer electronics media and industry to experience the rich and realistic sound of DTS:X in person, the company will have a booth at CES Asia - which will be held in Shanghai at the end of May - creating a full DTS:X experience. DTS Headphone:X technology, which offers a breakthrough to the current headphone specifications for mobile devices by providing surround experiences, will also be showcased at CES Asia, as well as at Computex Taipei 2015 following closely after. The exhibits will show how the technology supports end market devices, such as headphones, mobile phones and tablets. Moreover, a special area will be devoted to showcasing applications for online music stores, such as Headphone:X, which delivers surround sound through any headphones, which opens up brand new opportunities for creating business revenues.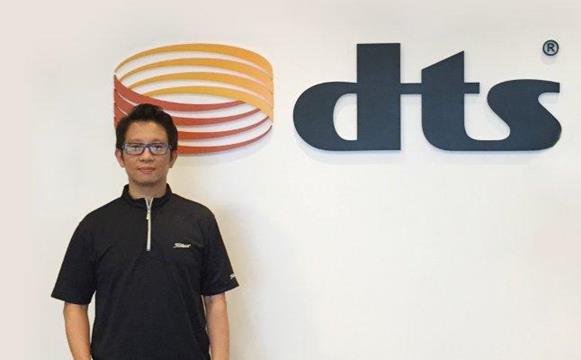 Aaron Chen, general manager of sales at DTS Taiwan Branch Office, notes that DTS:X is not tied to specific channel or speaker configurations, giving content creators, cinema operators, and home theater users full control in creating a fully immersive sound experience
Photo: Company