Imagination Summit 2013 Grandly Opened, Unveiling Innovative Solutions for Smart Mobile/Consumer Devices with Key Partners
Sponsored content
Imagination Technologies, one of the top three global semiconductor IP (SIP) vendors, grandly held its annual Summit in Hsinchu and Taipei recently. After completing the acquisition of MIPS early this year, the company demonstrated its full determination of expanding market presence with its comprehensive graphics, video, CPU, communication IP, as well as cloud IP solutions at the summit.
In addition to disclosing the latest design trends for smart mobile devices and consumer electronics, key partners, including TSMC and MediaTek, were also invited to make keynote speeches. The summits had attracted hundreds of engineers participating and received very warm responses.
"This is our first Asia road show after acquiring MIPS", said Maxwell Lin, Director of Sales, Imagination. "Eyeing Taiwan's strong design capabilities, we particularly organized two summits here, showing our firm commitment to the local market."
"Many people may not be familiar with Imagination. However, from our partners for this event, including TSMC, MediaTek, Cadence, and Synopsys, you can see that Imagination is a company with great technology advantages and potential. We play an important role in global SIP market, and are dedicated to providing leading IP solutions to meet customers' demands for designing innovative and differentiated new devices."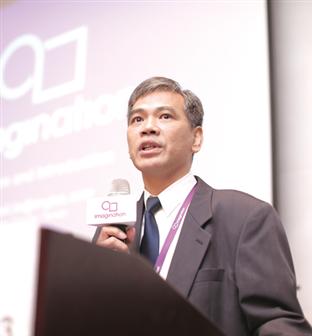 Maxwell Lin, Director of Sales, Imagination
Third-Party SIPs Drive the Development of SoC
Tony King-Smith, EVP Marketing of Imagination had the keynote speech on the topic of "From Crystal Ball to Reality: The Impact of Silicon IP on SoC Design", sharing with the attendance about the latest SoC design trends and the important role that third-party SIPs plays.
"From IP concept to SoCs and to end products, there is a long innovation path of 4-6 years", King-Smith said. "Therefore, in order to plan a clear path for the future, companies must understand real trends for industry and business evolution, consumer behaviors, and technology trends. And our mission is to help customers grasp future trends and provide practical advice across the whole design chain, so that they can really develop products that consumers want."
He stressed that, consumers are everything. Products are only successful if consumers buy them. However, the expectations are changing, cultures and values are different among different markets. As a result, developers need an up-to-date, socially aware and globally cultured viewpoint, which further increases the challenge of developing products.
Talking about the rise of SoCs and the rapid technology evolution, King-Smith made the video decoder as an example, "The first generation video was multi-chip, 480i solutions. And now, the current gen video decoder can support 1080p, multi-standards with only 1-2mm2 IP."
With more integrated functions into a smaller single chip, the development of SoCs has profound influences over the entire industry. Because SoCs are getting more complex and expensive, it's critical to get them right at the very beginning.
Since SoCs are key enablers in taking a vision into reality, it's vital for chip vendors to keep abreast of the latest SoC design trends. King-Smith pointed out that one architecture does not fit all applications any more. The off-load engines, or on-chip accelerators, have become as important as the CPU, and are now new category of processors.
It is inevitable that heterogeneous SoCs that integrate CPU, GPU, VPU (video processing unit), and RPU (radio processing unit) will be the mainstream in the future. Processors for each key function should be highly tuned to provide an optimized blend of programmable, configurable and fixed function hardware, so that SoCs with optimized performance, power and area will be made possible.
Imagination has a comprehensive range of IP portfolios for control, graphics, video and radio functions, with each processor designed to be the best. These class-leading functions can join together to create optimal system solutions.
Take the GPU as an example. Due to its parallel and scalable architecture, the GPU has become increasingly important in SoCs. For some applications, the GPU is expected to occupy the largest area of many SoCs. In addition to powering the latest user interfaces and applications, with the development of OpenCL, RenderScript and FilterScript, the enormous processing potential of GPU compute will be unlocked in the future.
According to King-Smith, Imagination leads the innovation of GPU technology and will introduce ray tracing functions in its latest gen product. With inherent support of the behavior of light, there won't be the fundamental trade-off of beauty or functionality in the future, every mobile device will be able to deliver rich image realism.
As for the CPU IP market, King-Smith emphasized the company's plans to enhance CPU leadership by leveraging its MIPS portfolio. King-Smith said that MIPS has complete processors from low-end microcontrollers to multi-core, multi-thread high performances cores. He said, "With our advantages in mobile GPU market and know-how, we will be able to create highly integrated solutions. We are confident that Imagination will become another key choice in CPU IP market in the near future."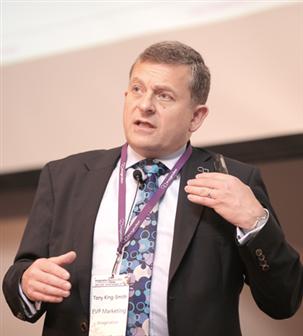 Tony King-Smith, EVP Marketing, Imagination
Technology Outlook, Challenges and Opportunities
In his keynote speech, Carlos H. Diaz, Director Advanced Devices Technology and TCAD Divisions, TSMC R&D, talked about the challenges and opportunities the semiconductor industry is facing in the near-to mid-term.
He said that the quest for a better life continues to drive high-tech industry innovation. Electronics is increasingly becoming more human-centric due to portability, intuitive interfaces, energy efficiency and availability.
Mobile convergence, cloud computing, augmented reality, the Internet of Things and ubiquitous connectivity will drive the next-wave of innovations. However, all these technologies must overcome the common product requirements for battery life, bandwidth, reliability, cost and performance/watt.
As human-machine interfaces become more important in mobile devices, the performance of the GPU has seen a significant improvement in recent years, from only supporting 480p resolutions at 30fps to 60fps dual screen Full HD or 4K rich gaming. Though GPU performance has increased by 80 times, its die size has only increased by 15 times.
Diaz said the mobile GPU has become a key driver for process technologies, and TSMC has enabled the rapid evolution of power-efficient mobile applications. It is expected that GPUs will be able to achieve 100~200 GFLOPS of performance by 2013/2014 in the 20nm process node, and further enhance to 200~400 GFLOPS in 2015 with 16nm FinFET process technology.
Density, power, performance and chip complexity are, and will continue to be, the key challenges in advanced CMOS technology. Process/processor co-optimization of GPU designs is vital to maximize performance at minimum power and area (PPA).
Optical lithography technology, will continue to be pushed to its limits in 10/7 nm nodes with immersion and multiple patterning techniques. EUV is considered key to advanced logic CMOS technology patterning in 10nm and beyond, but significant challenges still need to be overcome in source power and mask blanks among other issues.
Diaz pointed out that, as planar transistors can't be further shrunk, in order to keep improving device performance and reducing power consumption, the industry has aggressively moved into three dimensional FinFET structures.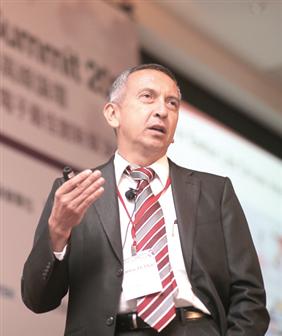 Carlos H. Diaz, Director Advanced Device Technology and TCAD Divisions, TSMC R&D
Foreseeing the Macro Level Trends
Johan Lodenius, Corporate Vice President and the Chief Marketing Officer at MediaTek, explored the mega trends that will cause profound influences over our daily lives. "The rise of a new 5B strong middle-class in emerging countries like China and India will bring a huge social, economic and demographic transformation for the planet", he said.
The trend will dramatically shift consumers' spending power. The Asia Pacific region will take the lead and there will be significant growth in South America and Africa. One of the impacts will be, Lodenius stressed, "For the first time ever, most people will be internet connected and have equal access to rich media." And the second impact is to unleash unprecedented new opportunities, socially, culturally and in all fields of research, commerce and education.
"Along with the rapid progress of mobile computing technology, we are just at the beginning of the world's greatest revolution ever. The Internet breaks geographic boundaries. As a result, various kinds of cooperation models and new trends will be able to emerge and develop rapidly."
There will be the bandwagon effect under this trend. As more people join, the network becomes more valuable. Meanwhile, driven by common OS/multimedia platforms for video, audio and positioning functions, consumers have more similar requirements for desired performance and feature levels. Therefore, he believes that the gap between high-end and low-end products will shrink and prices will keep declining, thus creating a larger "sweet-spot" market.
Also, the Internet has changed consumer purchasing behavior from product push to consumer pull. Enterprises should all pay attention to these macro-level trends.
In terms of device evolution, there will be an accelerated absorption of traditional products into fewer, higher volume segments. Single-function devices, such as cameras, MP3 players, and radios will be integrated into tablets and smartphones, making these mobile devices ubiquitous.
The second resulting device trend is that there will be a huge expansion of cloud-connected Internet of Things (IoT) devices to be widely used in healthcare, lighting, energy, security, home, and transportation, bringing mass benefits to the society and people.
"IoT is a stunning opportunity for growth", Lodenius said. "It is estimated that the world population will be 7.2 billion by 2015. But the amount of connected devices will be 25 billion units. By 2020, the two numbers will further increase to 7.6 billion and 50 billion."
Though the opportunity is huge, there are lots of challenges to overcome, including device management across a wide range of devices, upgrades and lifetime management for remote devices, compliance to global spectrums and policies, and meeting the fundamental requirements of cost and power, interoperability, etc.
According to Lodenius, there are many different business and operation models in the IoT market. Some companies adopt vertical market approaches to move in. But MediaTek will focus on the development of a horizontal market and will strengthen cooperation with different segments, forging the solutions they need. In particular, MediaTek believes it should be able to provide integrated hardware and software solutions to be competitive in the IoT market.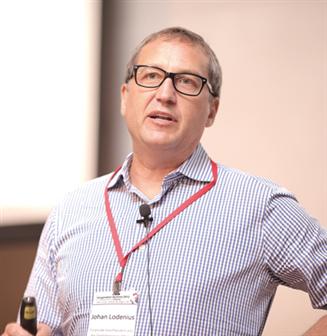 Johan Lodenius, Corporate Vice President and the Chief Marketing Officer, MediaTek
Comprehensive MIPS CPU Solutions
Paul Evans, Senior Business Development Manager of Imagination, introduced MIPS's complete product lines from lowest power to highest performance, and Imagination's latest roadmap after the acquisition of MIPS.
"The MIPS architecture has been developed for many years, with the concept of truly embracing the philosophy of RISC (reduced instruction set computing). Being simple and elegant, it not only can provide low power and high performance, but also perfectly align with the industry shift to code portability", he said.
The MIPS CPU portfolio covers classic M14K, 34K, and 1074K families, and the new Aptiv generation cores that were announced last year are also shipping now.
According to different market requirements, the Aptiv generation cores include three families: proAptiv, interAptiv, and microAptiv. proAptiv is featured by peak performance efficiency, an ideal solution for high-end mobile, home entertainment and networking devices. interAptiv and microAptiv target at middle and entry-level applications, emphasizing their efficiency & cost and size & cost advantages respectively.
"proAptiv has industry leading performance", Evans stressed. "According to the newly released CoreMark data, proAptiv has higher CoreMark/MHz compared to competitors' solutions, as well as superior performance/mm2 efficiency."
In particular, the die size of proAptiv is smaller, so that it can achieve a quad core in area of competing dual core. It means that silicon vendors can keep silicon costs under control, or make use of the additional area to integrate more functions on SoC.
Evans made an announcement at the Summit that a new single core CPU IP has been added in the interAptiv family. The new product is designed for small footprint, parallel processing intensive applications. With reduced area and dynamic power consumption, it is perfect for networking baseband, communications, and protocol layer processing.
There is also now a floating point version added to the microAptiv family while the proAptiv core is now shipping.
The high-performance proAptiv, multi-threaded interAptiv and compact microAptiv families of cores, are all available in refined, validated configurations offering industry-leading low power and efficiency for today's designs.
Additionally, Imagination also unveiled latest MIPS CPU roadmap. New MIPS Series5 "Warrior" CPU family of CPUs will be available soon.
Evans pointed out that MIPS Series5 will create a new family of processors from high to low end that will set new standards for CPU IP cores. The industry wants a choice of CPU IP. The launch of "Warrior" will complement Imagination's product portfolios. With full binary compatibility from low end 32-bit to high end 64-bit, we will be able to provide customers with solutions that offer better flexibility, efficiency, and power consumption.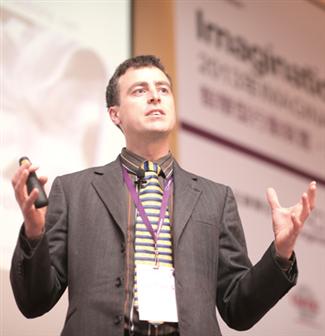 Paul Evans, Senior Business Development Manager, Imagination
Using PowerVR VPU to Realize HEVC Applications
Driven by the requirements for higher resolution displays, the HEVC (High Efficiency Video Coding) standard is making progress rapidly. Chris Longstaff, Senior Business Development Manager of Imagination, explained how the company's PowerVR VPUs can help customers realize high quality 4K/8K applications.
HEVC is designed to deliver comparable video quality to content encoded in the current H.264/AVC standard, at approximately half the bitrate. The standard is in final draft this year with ongoing development for 4:4:4, 4:2:2 profiles, SVC profiles, and 3D extensions. At present, software based implementations of decoders and encoders are already started.
It is estimated that first full hardware HEVC codec enabled SoC devices will be available next year. And by 2015, there will be OEM products including full hardware HEVC acceleration in the market. Eyeing the potential of HEVC applications, Imagination has announced its new PowerVR D5500 multi-standard 10-bit HEVC decoders is licensing now, and 10-bit HEVC encoder will be available soon.
Imagination is the first company that delivers complete IP solutions for 10-bit color depth. Longstaff said that the International Telecommunications Union (ITU) has recognized that 8-bit color depths are not enough to satisfy consumer demand for the highest possible quality; therefore the ITU Recommendation ITU-R BT.2020 mandates the use of at least 10 bits for ultra-high definition TV (UHDTV) systems.
He stressed that, in many applications, 10-bit support is no longer optional, but mandatory. SoC designers for DTV, automotive, and other areas must be implementing 10-bit now, otherwise, their products will be uncompetitive or obsolete at launch. Compared with other solutions, Imagination's PowerVR VPUs can provide higher performance at lower power consumption for 10-bit applications.
Additionally, since there are many standards in use today and many standards have a very long life, Longstaff pointed out the importance of multi-standard support. Take MPEG-2 as an example, it is still the preferred video codec of many providers today, so multi-standard solutions are required.

As 10-bit is mandatory for several automotive applications and consumers demand increased color fidelity to go with the increased resolutions, Longstaff believes that 10-bit will play a rapidly growing and important role in areas including UHDTV, tablets, and cameras.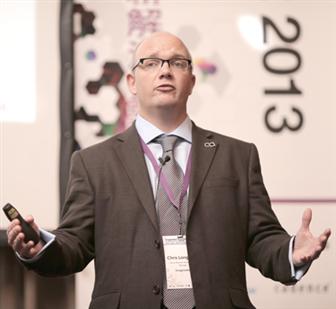 Chris Longstaff, Senior Business Development Manager, Imagination
Imagination's Ecosystem Growing Strongly
As the top three SIP vendor, Imagination keeps building strong ecosystems and providing comprehensive support and services for licensees. Amit Rohatgi, Vice President of Segment Marketing, Imagination, said that the company's PowerVR Insider ecosystem is one of the world's top developer communities, with 40,000 global members. There are already over 1 billion PowerVR based devices shipped and more than one million applications developed.
On the other hand, after acquiring MIPS, Imagination continues the momentum of building the existing MIPS ecosystem and aims to enhance interaction with the Android community to further expand its market presence.
According to Amit Rohatgi, MIPS initiated the Android on MIPS program several years ago and already achieved fruitful results. MIPS has taken the lead to launch multiple Android digital home devices and tablets. Early this year, Samsung also introduced a MIPS based set-top box (STB), the world's first certificated non-mobile Android device.
Last year, Google provided native support for MIPS architecture, which is a big milestone for MIPS' Android efforts. Now the MIPS architecture is 100% compatible with Android, tools, debug, Google Play, Widevine libraries, and the Android Compatibility Test Suite (CTS). Imagination is also working closely with Google on optimizations.
Now, Imagination is making efforts to move towards 100% application compatibility. Rohatgi said, "Currently, 91/100 top free apps on Google Play run successfully on MIPS platforms. Imagination is on track to hit 95% app compatibility by end of this year."
It is expected that OpenCL will drive the rapid growth of graphic computing and make applications such as augmented reality, emotion detection, and video content analysis more popular. Therefore, Imagination is expanding its middleware relationships and launching the PowerVR Insider Gaming Middleware Program. As for embedded systems, Imagination will also continue and expand the existing MIPS ecosystem of more than 100 partners.
At last, Rohatgi stressed that Imagination has a world class support team with over 50 years of combined experiences. He said, "With our ecosystem, we will help customers reach the goals of product optimization and differentiation."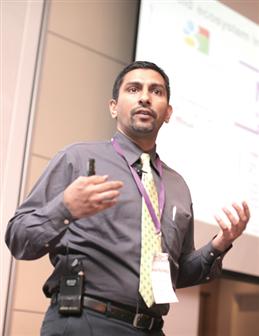 Amit Rohatgi, VP Segment Marketing, Imagination
PowerVR Graphic: Performance Through Efficiency
Imagination is a leader in the GPU IP market, with 50% market share across all embedded GPUs and near 80% share for GPU IP. Kristof Beets, the company's Senior Business Development Manager, introduced the low power advantage of the PowerVR GPU family and its future directions.
"Mobile device graphics performance is increasing at an ever faster pace, but how to keep power consumption under control is essential", said he. "With tile based deferred rendering (TBDR) technology that only renders what is visible, PowerVR GPUs are designed for low power and system level efficiency. Its PowerGearing technology can enable the required performance and manage different power consumption levels to reach the balance of overall SoC power consumption."
Therefore, PowerVR GPU compute delivers high performance with minimal CPU load, which means lower power. Also, with excellent bandwidth efficiency, it can allow OpenGL ES 3.0 to achieve higher performance, lower bandwidth with minimal CPU loading. For the ecosystem, it will also enhance the SDK/tools optimal utilization efficiency.
Beets stressed that power efficiency and thermal impact are highly related, because the heat and thermal panic risk caused by high power consumption will reduce performance. According to test results from Anandtech.com, PowerVR has more stable low power and performance compared with competitors.
Imagination will continue the low power advantage of PowerVR, and keep driving the development of GPUs by incorporating new technologies such as heterogeneous system architecture, ray tracing, and ever more power efficiency.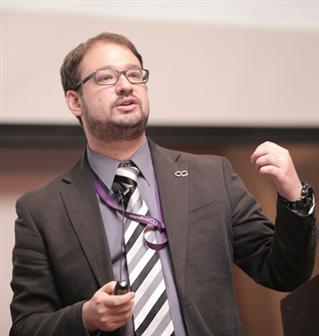 Kristof Beets, Senior Business Development Manager, Imagination
Ensigma & Flow: Connecting Everyone to Everything
With mobile Internet and IoT devices, connectivity has become an essential function for various kinds of devices. In response to this trend, Imagination provides Ensigma RPU and Flow cloud IP solutions to meet the multiple standards communications requirements for SoC and the cloud applications.
"Based on software defined radio (SDR) technology, Ensigma RPUs help customers integrate more communications functions into SoCs with lower cost", Volker Politz, VP Business Development, said. "Ensigma RPUs can support more than 30 standards for TV, radio, Wi-Fi, and Bluetooth."
He explained that the RPU has completely different characteristics compared to the CPU and the GPU. Imagination's RPUs combine programmable and configurable engines to handle complex dataflow at various speeds. Even for the standard like 802.11 ac 2x2 Wi-Fi, it can be realized by less than 3mm2 die size at 28nm node. And the power is very low, making it perfect for high bandwidth applications.
"We have been developing RPUs for several years, and believe that ultimately this funtionality will go on-chip just as GPUs have done", Politz said. "Now we're seeing this trend being acknowledged by our partners and the technology has been adopted by several licensees."
Imagination just announced its latest Ensigma Series4 RPU with four different versions for supporting all connectivity standards, TV, and broadcast radio standards. Series4 RPUs are available for licensing now.
As for Flow IP, it's an M2M cloud solution with Web services-based application programming interfaces (APIs). It can provide baseline services for device and user registration and authentication, also the payment, key value store (KVS), multimedia content services and more.
Flow can integrate easily into existing cloud based technologies, so that customers accelerate time-to-market by building upon existing client and service-side platform. It can be widely used for a wide range of M2M applications, including consumer, healthcare, home surveillance, industrial, toys and more.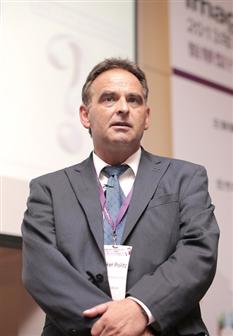 Volker Politz, VP Business Development, Imagination
Operators Super Service: Embedded VoLTE, Video over LTE and RCS
As mobile operators around the world are rapidly deploying LTE networks, it is forecasted that number of VoLTE connections will reach 76 million by 2016. However, both the voice and video over IP services are facing the challenge finding a single integrated client to address the requirement for multiple platforms. "This is what HelloSoft IP from Imagination can help", said Mike Hopkins, the company's Senior Technical Marketing Specialist.
According to Hopkins, consumers may use different operating systems, connectivity technologies (LTE, 3G, or Wi-Fi), and end devices to conduct voice or video communications, which make the single client application more important.
Meanwhile, packet losses are inevitable in mobile networks, because real-time operation does not allow for extensive retransmission or buffering. Another issue is that latency is introduced at each stage of the chain, resulting in echoes and delays of up to 500ms.
In order to cope with these challenges, the media engine of HelloSoft is equipped with enhanced voice quality management (EVQM) and dynamic video quality management (DVQM) to cater for packet losses. The media engine has high performance, even at a packet loss of over 30%, its algorithms can still sustain excellent voice and video quality.
Moreover, Imagination also supports RCS (rich communication suite), a solution designed to be interoperable between all mobile operators and devices, to enrich calls with multimedia sharing functions. It's already available on Android, with an iOS version under roadmap.
Hopkins emphasized that Imagination's solutions deliver the standards-compliant seamless cross-network user experience required in modern communication. With low audio/video latency, the highest level of QoS (quality of service), multi-platform support, low power consumption, and wide standards support, the HelloSoft solutions will bring key differentiation factors for customers' products.
Mike Hopkins, Senior Technical Marketing Specialist, Imagination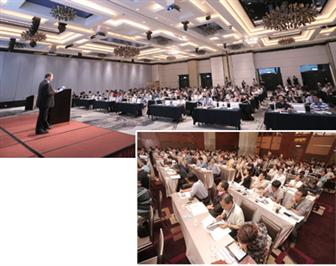 Imagination Summit 2013

Imagination Summit 2013