Garmin International, a unit of Garmin, introduced the Edge 705 and Edge 605 GPS navigation devices for cyclists. The Edge 705 and Edge 605 provide mapping capabilities, street navigation and a 2.2-inch color display in addition to tracking vertical profiles, climb and descent, altitude, speed, distance and time, according to the company.
The Edge 705 gives cyclists the opportunity to monitor GPS position, power, heart rate, speed, cadence, altitude and gradient on the same display. With the Edge 705, users will be able to share their information – including saved rides, waypoints and workouts – with each other through ANT+Sport wireless technology.
ANT+Sport technology allows the Edge to interface wirelessly with other fitness devices such as a heart rate monitor, cadence sensor or other Edge units. Cyclists can share courses, workout data and saved rides. When paired with an optional power meter from SRM or Quarq or another third party's ANT+Sport-enabled device, the Edge 705 measures power – torque and cadence for each leg at the pedals.
Altitude is recorded using a barometric altimeter for the Edge 705. This accurate altitude data makes it much easier for cyclists to match their altitude profile with their speed, cadence and heart rate during post-ride analysis. The Edge 605 measures altitude through GPS positioning.
The waterproof Edge uses a high-sensitivity GPS receiver to sustain reception in the most challenging conditions, such as heavy tree cover or "urban canyons" created by skyscrapers. It attaches to either the stem or handlebars of the bicycle, and is designed for easy removal at the end of the workout.
The Edge 705 with heart rate monitor is expected to be available in December 2007 and have an estimated retail price of US$499.99. The device bundled with a heart rate monitor and speed/cadence sensor is expected to be available at the same time for an estimated retail price of US$549.99 and will cost US$649.99 with the addition of a microSD card and City Nav NT maps.
The Edge 605 is expected to be available in December 2007 and has an estimated retail price of US$399.99.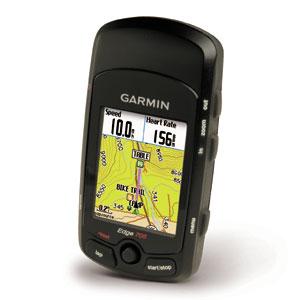 The Garmin Edge 705 GPS device for cyclists
Photo: Company