Dual leadership should become long-term management model at TSMC, says Morris Chang
Josephine Lien, Taipei; Willis Ke, DIGITIMES [Friday 13 October 2017]
The dual leadership to be enforced at Taiwan Semiconductor Manufacturing Company (TSMC) starting from June 2018 should remain a long-term management model for a big company like TSMC, its chairman Morris Chang told Digitimes in a recent exclusive interview.
The world's largest wafer foundry house will be under the dual leadership of Mark Liu and CC Wei, both now co-CEOs at the firm, after Chang retires in early June 2018, with Liu to serve as chairman of the board of directors and Wei as CEO.
Though dual leadership is a relatively new practice in Taiwan, Chang said, it has been well adopted by major foreign enterprises, with over 50% of S&P 500 companies implementing the system. But for smaller companies, both the chairmanship and CEO post had better be assumed by the same person, he opined.
Chang said whether the dual leadership will become an established practice for TSMC in the future will be none of his business, but that he hopes it can be carried on.
Board of directors to play a crucial role
Chang said that under the dual leadership, the board of directors will play a crucial role in TSMC's management, and all the other nine incumbent members of the 10-seat board have agreed to stay on after his retirement. He said after the work division between chairman and CEO takes effect, the board of directors will convene a quarterly meeting to set development directions for the company, and its chairman should present subjects two weeks before the meeting, mainly including capital expenditure (capex) budgets, personnel appointments, investment projects, and other topics associated with leadership, markets and competition, for discussions and approval at the meeting.
Chang further stressed that the major mission of TSMC's chairman is to lead the board of directors and serve as the firm's top representative in dealing with the government and society, while the CEO is the company's top representative when facing customers, suppliers, and member firms of TSMC's Grand Alliance.
As the last decision maker at the board of directors, Chang said, the chairman should not only understand external environmental changes and grasp internal operating situations, but also conduct seamless cooperation with the CEO. He added that the CEO should assume the responsibility of both formulating and executing operation policies.
Remembering 3 former ranking executives
During the interview, Chang also talked about some former ranking executives of the company. Among them is Chiang Shang-yi, former chief operation officer, who moved to serve as an independent director at China Semiconductor Manufacturing International Corp (SMIC) in 2016 after retiring from TSMC in 2013. Chang said Chiang has repeatedly pledged not to do anything harmful to TSMC after working at SMIC, and has kept his promise well so far. He added that he still sees Chiang as a good friend.
Another is Rick Tsai, who served as TSMC's CEO from 2005-2008. Chang said he was "very reluctant" to let Tsai quit in 2009 after his controversial massive layoff plan backfired. Following Tsai's resignation, Chang resumed the CEO post.
Chang also remembered that he had tried very hard to keep Mong-song Liang, a former senior R&D chief at TSMC, when Liang tendered his resignation in 2008, but in vain. Liang later went to Samsung to serve as R&D vice president before reportedly moving to head SMIC's R&D department in April 2017. But Chang said he has had a good impression of Liang, but some points have been docked for him due mainly to his changing jobs frequently.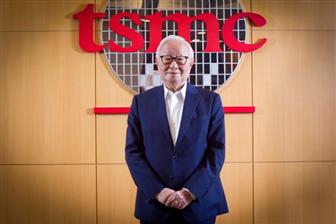 TSMC chairman Morris Chang.
Photo: Shihmin Fu, Digitimes, October 2017