Wireless charging: Q&A with Steven Tateosian, director of IoT and Security Solutions at NXP
Joseph Tsai, DIGITIMES, Taipei
The launch of Apple's iPhone 8 and iPhone X has highlighted wireless charging, a function that will also be featured in other smartphine vendors' upcoming models. However, besides smartphones, NXP Semiconductors also sees potential in wireless charging for larger-size applications such as notebooks and even home appliances. The company is already planning to develop solutions with larger watt support.
Digitimes recently interviewed Steven Tateosian, director of IoT and Security Solutions at NXP to get a better understanding of the company's latest wireless charging development and plans.
Q: Can you give us some idea about NXP's wireless charging business?
A: Our wireless charging business addresses applications from subwatt to 200W. NXP started in this business many years ago, with engagement in the Wireless Power Consortium and AirFuel Alliance. As the market has evolved, NXP now focuses on Qi and NFC Direct Charge. This combination allows NXP to enable consumers with a charging experience from subwatt to 200W, in a unified and standard compliant manner.
NXP provides customers a variety of 5W and 15W transmitter and receiver solutions for smart mobile devices. NXP is a leading player with solutions for in-vehicle charging of smartphones, where NXP is able to leverage its design for automotive strengths and its wireless power transfer expertise. In fact, our first-generation 5W designs came onto the market in vehicles over the past two years. Now the market is moving to 15W because it improves user experience with up to 3x faster charge times. To follow will be support for larger devices like notebooks, tablets and home appliances.
Wireless power is a technology area we have been developing for some time. We have worked in close collaboration with the Wireless Power Consortium since their inception in 2008 to establish standards to advance market adoption and growth. We converged early on in the development of Qi-based designs due to the well established principles of the charging technology and interest by device manufacturers to get a robust and safe wireless charging experience into consumers' hands.
With the introduction of the iPhone 8 and X, we expect the market to show growth in the second half of 2017 and 2018. We see this as new suppliers enter the market, and as consumer penetration increases to support the new iPhones.
With the recent adoption of Qi in new smartphones, we expect the infrastructure for wireless charging to grow rapidly to allow smartphone users to charge more frequently, from home, in the car, at restaurants, airports, hotels, and more.
Q: What is the latest status of wireless charging technologies in the smartphone market?
A: The two most influential smartphone vendors have now adopted the Qi standard and introduced devices stretching above 5W power level. We see that every smartphone brand vendor that offers wireless charging supports the Qi standard. As a result, they are actively engaged in building out the ecosystem for this technology. This will continue to drive interoperability across devices from these brands. For example, their adoption of above-5W solutions will also influence car manufacturers to upgrade their solutions as well as drive integration into furniture for as we have seen at China's cafe chain Pacific Coffee.
The market is poised to grow, estimating 60-160% CAGR for the total wireless charging market including automotive, industrial and consumer electronics. This would include both receivers and transmitters. Our estimates for the mobile market are more than 50% CAGR over the next 4 years.
Beyond charging smartphones, NXP has also announced a medium power wireless charging solution for notebooks, 2-in-1 devices and tablets. Initially, the solution is targeting 65W. It offers consumers freedom of placement and acts as a true power source for the notebook for handling things like dead battery and turbo mode. Applications at higher power levels, such as home appliances will follow.
Q: What are the advantages of NXP's wireless products?
A: NXP has a strong portfolio of Qi certified wireless power transmitter and receiver solutions and is able to supply complete wireless charging solutions delivering fully certified designs; hardware and software; controllers; NFC readers; power devices; application software and libraries; software development and visualization tools; and application expertise and support.
For our latest products and technologies, NXP has recently announced a new fixed-frequency single-coil design, the WCT-15W1COILTXFF, optimized for the latest smartphone charging stations. NXP also has technologies to detect and protect payment cards and RFID tags from damage when placed near an active transmitter.
Our key chair positions at WPC are also serving as an advantage for us to drive the standard and the technology forward. Additionally, we are integrating our NFC technology for foreign object detection, especially in regards to protecting consumer wallets with credit cards and IDs.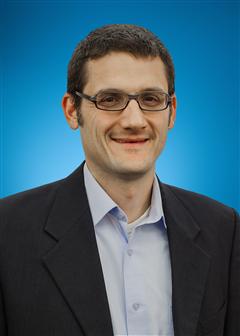 Steven Tateosian, NXP's Director of IoT and Security Solutions.
Photo: Company