China consumer electronics brands displaying innovative devices at CES 2018
Max Wang, Las Vegas; Steve Shen, DIGITIMES
Friday 12 January 2018
China-based TV and home appliance brands including Haier, Changhong Electric, TCL and the Konka Group, are showcasing their new display technologies, TVs, IoT- and AI-integrated smart home solutions at CES 2018.
TCL, which ranks as the fourth largest TV brand in North America, aims to further its market share by highlighting its 4K and HDR smart TVs, ranging from 43- to 65-inch.
TCL has also stepped into the development of quantum dot technology and is expected to roll out Quantum TVs in the second half of 2018.
In addition to highlighting its U7- and U9-series TVs, Haier is also showcasing its IoT solutions for living rooms, kitchens and bathrooms. Meanwhile, Changhong is displaying smart TVs with voice identification capability.
While showcasing its 8K display products, BOE Technology also announced that it has teamed up with Stream TV Networks and plans to roll out handset and IT panels with Stream TV's naked-eye 3D technology. BOE's 8K Lite Ultra-3D monitor panel will be the first product of such a collaborative effort.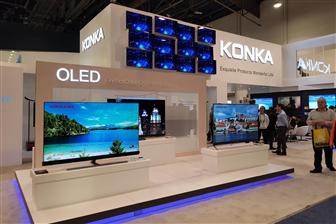 China vendors showcasing products at CES 2018
Photo: Max Wang, Digitimes, January 2018