Innolux makes efforts to reuse water
Rebecca Kuo, Hsinchu; Adam Hwang, DIGITIMES [Thursday 20 April 2017]
TFT-LCD panel maker Innolux in 2016 adopted i-FM (intelligent facility management) 4.0 Big Data system to manage utilization of water resources at its factories in Taiwan to maximize use of recycled water, according to the company.
With access to information on available water provided by the government's Water Resources Agency, i-FM 4.0 Big Data system, based on performance of production equipment at factories, management of materials and tracking of events, enables Innolux to understand availability of water over next few months to cope with risks arising from water shortage, Innolux noted.
Innolux began to recycle wastewater through introducing advanced MBR-RO (membrane bioreactor and reverse osmoisis) recycling equipment in 2008. Currently, 95% of wastewater produced at 14 factories is recycled on average, higher than international standards, it said. At a factory in southern Taiwan in particular, as much as 99.5% of wastewater was recycled. For the 14 factories together, a single drop of water was reused for four times on average. In 2016, Innolux recycled a total of 7,000 tons of wastewater, equivalent to total water storage of 28,000 standard swimming pools.
In addition to recycling, Innolux is making efforts to reduce water consumption in manufacturing, aiming at water consumption of 0.264 cubic meter per square meter of panel in 2020 which is 20% lower than the level in 2016. On the other hand, Innolux has had alternative sources of water, including collection of rainwater and water condensed from air conditioning and compressed air. In 2016, 589,000 tons of rainwater was collected and mainly used to produce pure water and water of less purity for use in washing.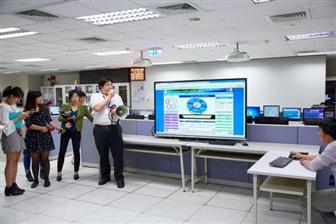 I-FM 4.0 Big Data system adopted by Innolux
Photo: Michael Lee, Digitimes, April 2017