AUO opens rooftop PV system in southern Taiwan
Rebecca Kuo, Tainan; Adam Hwang, DIGITIMES [Friday 17 February 2017]
AU Optronics (AUO) on February 16 inaugurated a rooftop PV system with installation capacity of 3.87MWp in Tainan City, southern Taiwan. The system is able to generate 4.84 million kWh a year, equivalent to the annual power consumption of 1,353 households, and an annual reduction in carbon dioxide emissions of 2,640 metric tons, according to AUO.
The rooftop PV system was set up by Evergen Power, AUO's subsidiary engaged in establishing PV power-generating statitions, at AUO's factory in Tainan Technology Park.
AUO has completed rooftop PV systems and a floating PV power-generating station at a dam in Taiwan, with total installation capacity reaching 66MWp. In addition, AUO plans to set up PV power-generating stations on salt-producing land, large ponds, rural land not suitable for farming as well as landfill sites.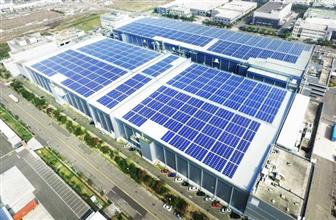 Rooftop PV system at AUO's factory in the Tainan Technology Park
Photo: Company