Innolux sees bright prospects in 2018
Rebecca Kuo, Tainan; Steve Shen, DIGITIMES
Monday 12 February 2018
Flat panel maker Innolux expects its overall performance for 2018 to be better than that seen in 2017 despite a slowdown in the first quarter caused by seasonality, according to company president Robert Hsiao.
The company expects its shipments of large-sized panels to dip 7-9% sequentially in the first quarter with their ASP to fall 4-6% on average. Meanwhile, small- to medium-sized panel shipments are likely to sink 17-19% on quarter with their ASP to drop 1-3%, Hsiao noted.
However, the company expects its shipments of commercial-use display products and complete TV sets to increase significantly in 2018 as it has transformed itself into a system solution provider instead of merely a panel producer, according to Hung Mao-sheng, president of Innolux TV business unit.
The global supply and demand for TV panels is expected to stay stable in 2018, with demand to increase 5-8% on year due to growing TV shipments and an increase in the average size of TVs, while the supply will expand 8-10% due mainly to the availability of new capacities from the 8.6G and 10.5G fabs in China, Hung said.
Innolux also expects its shipments of IT panels, particularly notebook applications, to continue to grow in 2018, buoyed by its automated backend production lines.
Meanwhile, Innolux expects its capex for 2018 to more than double to NT$55 billion (US$1.876 billion) due to the purchase of a 6G LTPS fab from its parent company Foxconn Electronics (Hon Hai) in late 2017. The plant will be run as an OEM factory for Foxconn with its revenues to account for 5-6% of Innolux's total revenues a year.
Innolux also reported net profits of NT$37 billion (US$1.26 billion) or NT$3.72 per share on revenues of NT$329.2 billion in 2017.
The company's total shipments of flat panels reached 28.47 million square meters in 2017, up 5.4% from a year earlier. Shipments of small- to medium-sized panels totaled 271 million units in 2017, increasing 20.4% from a year earlier, the company revealed.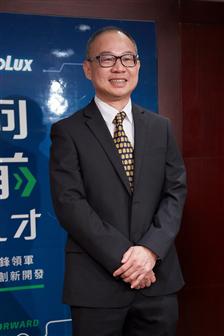 Innolux president Robert Hsiao
Photo: Digitimes file photo