Mitac receives navigation solution orders from NY
Aaron Lee, Taipei; Joseph Tsai, DIGITIMES
Friday 12 January 2018
Taiwan-based Mitac International's Magellan brand return-to-route navigation solution has obtained orders from New York City Department of Sanitation (DSNY) for use in snowplow and salt spreader vehicles.
Mitac pointed out that DSNY has used the system on the department's 700 snowplow and salt spreader vehicles to improve efficiency and road safety.
The system can provide navigation services to drivers of the vehicles during bad weather to allow them to complete their work safely, according to DSNY.
Mitac also pointed out that the company's GPS return-to-route solution completely supports New York City's geographical environment.
Mitac's Magellan infotainment and GPS systems will also be featured in Subaru's new cars for 2018 and are expected to land orders from a carmaker in North America. Mitac also reportedly has obtained government procurement orders for a car fleet management system from North America, but the company declined to comment on related shipments.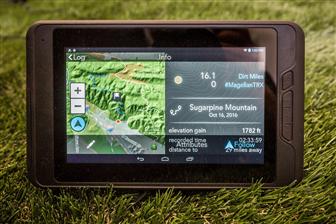 Mitac's Magellan navigation device
Photo: Company