Sesto eyeing automation business in Taiwan semi industry
Joseph Tsai, DIGITIMES, Taipei
Singapore-based Sesto Robotics is an automated guided vehicle (AGV) and intelligent mobile robot (IMR) developer that recently participated in Semicon Taiwan 2017 to push its products into the Taiwan market.
The company's CEO Michael Leong pointed out that Sesto's AGV products are mainly targeting the semiconductor industry as the company has been spending most of its effort studying semiconductor manufacturing processes and procedures for 3-4 years in order to enable its AGVs to coordinate with the transportation processes of the semiconductor industry.
The studying is an ongoing process and Sesto intends to continue the work so it is able to provide its latest innovations to customers, Leong noted.
"We are also working with our clients to customize software pre-installed in our AGVs for them to coordinate with the clients' existing manufacturing equipment," said Leong, adding that the AGVs also feature a system to track all the movements to prevent erroneous deliveries that can significantly raise costs.
Sesto's IMRs are capable of supporting robotic arms from major suppliers such as Yamaha's Scara series and can support both 4-axis and 7-axis arms.
The company also obtains orders from cargo delivery service providers, hospitals and manufacturing factories, but semiconductor companies are still the major sources of its orders and its R&D plan is also mainly focusing on the area.
In the past, most companies would put strips on the ground at their facilities to help guide robots to reach their destinations, but Sesto is using a high-precision laser-based navigation system to assist AGVs' movements. The AGVs' laser is able to detect the surrounding environment and then use the gathered data to compare with its internal maps to identify its location and plan the moving route. The AGVs also feature support for Internet of Things (IoT) functionality in order to interact with other automation equipment.
For the IoT support, Sesto's software is capable of communicating with automatic doors and elevators if clients have demand. The company can basically customize its software to satisfy most of its clients' demand. Demand for the elevator control is more commonly seen from clients with smaller production bases that need extra floors to create space and Sesto's AGVs are able to easily adapt to such requirements due to their flexible design.
Compared to an one-floor building, to serve in a factory with multiple floors, the AGVs require extra technologies as their internal maps need to be switched based on what floor they are on. Sesto has already been developing the technology for quite a while and with continued improvement of the related processes, it allows the company to be completely capable of handling the issue, Leong stated.
Currently, Sesto has a R&D team composed of 40 engineers and technicians in Singapore responsible for creating and updating the Sesto AGVs' software and systems.
Prior to the entry to the Taiwan market, Singapore is Sesto's main market, but after entering Taiwan, the company has found that demands from Taiwan's clients are much different from those of its clients in Singapore. However, Leong believes the differences may not be a drawback for its business and expects its partnerships with Taiwan-based clients to provide experience for the company to grow and build new technologies.
Sesto is currently partnering with Taiwan-based Happy Pole for product distribution in the Taiwan market and has already established some partnerships with semiconductor players in China.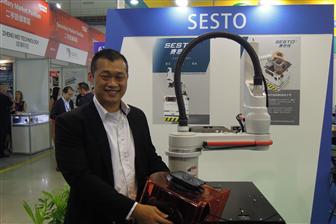 Sesto CEO Michael Leong.
Photo: Joseph Tsai, Digitimes, October 2017