Samsung to focus on promoting Gear Sport smartwatches
Max Wang, Seoul; Steve Shen, DIGITIMES [Friday 13 October 2017]
Samsung Electronics has adjusted its strategy for wearable devices to focus on promoting its newly released Gear Sport smartwatch and wireless earphone Gear IconX 2018 products, while slowing down a further development of its Classic-series devices, according to sources at the Korea-based electronics giant.
The Gear Sport comes with multi-sensors for fitness tracking, heart-rate monitor, GPS functionality and 5ATM water and depth pressure resistance.
Samsung has also teamed up with Speedo and Under Armour (UA) to enrich its apps for the Gear Sport. The smartwatch also come with support of Samsung Pay, Samsung Connect, and Samsung Health to differentiate with rival products, according to the company.
Meanwhile, Samsung plans to develop a mobile platform to enable connection with all of its mobile devices so as to build up an IoT-based ecosystem for its wearable devices.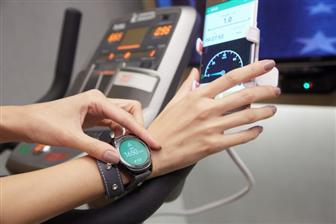 Samsung to focus on promoting Gear Sport.
Photo: Michael Lee, Digitimes, October 2017