AUO sets up sustainability development unit
Rebecca Kuo, Tainan; Steve Shen, DIGITIMES
Wednesday 14 February 2018
Flat panel maker AU Optronics (AUO) has created a new unit to explore strategies for long-term sustainable developments, according to a company announcement.
Human resources vice president Amy Ku will serve as the new chief sustainability officer (CSO), to be responsible for setting strategic policy for corporate sustainable developments and corporate culture.
Meanwhile, the company also initiated a reshuffle in which senior associate vice president TY Lin will be promoted to serve as vice president and general manager of its mobile solutions business group.
Sean Chen, vice president and the incumbent head of the mobile solutions business group, will be reassigned to head the corporate development office to handle and promote business developments, intellectual property and patent strategies.
The new appointments will come into effect on March 1.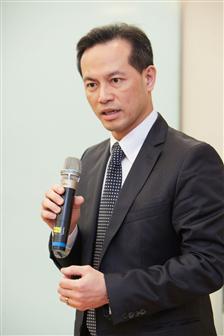 AUO vice president Sean Chen
Photo: Michael Lee, Digitimes, February 2018