Acer to become holding company, says Stan Shih
Aaron Lee, Taipei; Joseph Tsai, DIGITIMES [Friday 13 October 2017]
Acer founder Stan Shih has pointed out that the company will gradually turn into a holding company with most of the Acer Group's affiliates to transform into independent entities and list in stock markets.
Before doing so, Acer will increase its shareholdings in these companies to above 50% to have full control of them.
Acer's BYOC Smart Products business president Maverick Shih also recently disclosed that the company's digital signage affiliate ABST is scheduled to apply for listing in Taiwan Stock Exchange (TSE) in 2020.
Stan Shih believes BYOC businesses should not be placed under a big organization and should be operating independently in order to create more values.
As for the retirement announcement of Taiwan Semiconductor Manufacturing Company's (TSMC) chairman Morris Chang, Shih pointed out that Acer is also nurturing its younger-generation executives to become successors.
Acer's third-quarter consolidated revenues reached NT$60.58 billion (US$2.01 billion), growing 3.4% on year.
Acer's revenue growth in the third quarter was driven by five major factors: increased revenues from gaming products, which were up 168% on year and contributed over 10% of Acer's overall third-quarter revenues; sales from Latin America especially in Brazil growing steadily and rising 30% from a year ago; increasing demand for Windows-based enterprise notebooks, which helped drove revenues from the enterprise sector to grow 40% on year; Chromebook's rising revenues, which went up by 27% on year; and an average revenue growth of 30% on year for its emerging businesses.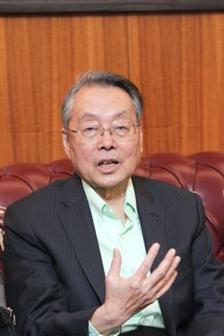 Acer founder Stan Shih.
Photo: Shihmin Fu, Digitimes, October 2017