RDA chip shipments for IoT applications top 1 million units
Claire Sung, Shanghai; Jessie Shen, DIGITIMES [Thursday 20 April 2017]
RDA Microelectronics has seen cumulative shipments of its chip solutions for IoT applications top one million units, according to the China-based chip provider.
Earlier in 2017, RDA rolled out its first-generation artificial intelligence (AI) chip solution dubbed RDA5981 based on the ARM architecture. The launch was announced jointly with Baidu and ARM.
RDA CEO Shuran Wei indicated ARM architectures suit well IoT chips requiring low power. The RDA5981 solution is cost-competitive, said Wei, adding that the company plans to introduce a smaller version of the chip in three to four months.
RDA is partnering mainly with Semiconductor Manufacturing International (SMIC) using the the foundry's low-power process technologies, Wei indicated. RDA is optimistic about its business in the IoT field, and expects to post more than 20% growth in its chip shipments for IoT applications in 2017, Wei said.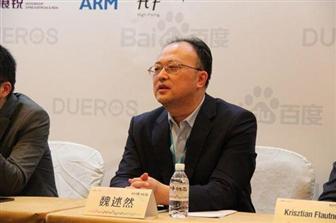 RDA CEO Shuran Wei
Photo: Claire Sung, Digitimes, April 2017