Lanner releases pair of dual-Xeon network appliance platforms
Press release, September 18; Ricky Morris, DIGITIMES
Lanner Electronics has announced the release of two new appliances supporting dual Intel Xeon multi-core processors and the Intel 5100 chipset.
The Lanner FW-8870 and FW-8880 network appliance platforms are designed to serve a broad range of network acceleration, security and traffic management applications for enterprise markets, said the company. The FW-8870 is a 1U rackmount appliance with one internal SATA storage bay, while the 8880 is a 2U platform with four removable SATA drive bays.
Both platforms are built around the server-grade Intel 5100 MCH chipset, designed for performance and power optimization in embedded systems, and offer up to 12 front-facing Ethernet ports in three customizable network modules which can be configured to provide flexible options for SFP fiber, standard 10/100 RJ45, and bypass-enabled ports.
An onboard Cavium Nitrox CN1620 security accelerator processes high-level IPsec and IKE, IPv6, SSL and Wireless LAN security protocol macro commands, which reduce host I/O traffic and dramatically offload system processes to increase total system throughput, highlighted the company.
The FW-8870 offers energy efficiency and compact size, while the FW-8880 provides even more customization and high availability options including front-accessible hard drive bays and redundant power supplies. Both platforms are available now.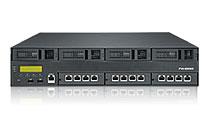 Lanner FW-8880 dual-Xeon network appliance platform
Photo: Company