Lanner launches two entry-level network appliances based on VIA C7 CPUs
Press release, June 1; Ricky Morris, DIGITIMES
Lanner Electronics has announced the addition of the FW-6440 and FW-6490, two entry-level network communication platforms designed for rapid deployment in low-power and cost-sensitive security applications.
"Our customers have been demanding this technology, and today we are happy to deliver," said Lawrence Chao, Executive Vice President. "With VIA C3 platforms quickly reaching end-of-life, Lanner is pleased to offer system integrators a superior migration option with rich integrated features."
The competitive small business market requires hardware that performs well and is cost effective, said Lanner. Based on VIA CN700 architecture, the FW-6440 and FW-6490 deliver a value-proposition for small business security solutions.
With an onboard VIA C7 processor up to 2GHz which features the integrated PadLock Security engine, software engineers can leverage hardware acceleration engines to increase system performance. Furthermore, since these two models share a common architecture, customer's can interchange between both desktop and rackmount form factors, without modifying application code.
Both models include four integrated Ethernet ports with one pair supporting abnormal state packet bypass, allowing easy deployment in front-line security applications where reliability is a key concern. Moreover, these products include optional networking modules inclusive of a 4-port switch or extra Ethernet port, allowing you to deliver innovative and value adding solutions, right out of the box, highlighted Lanner.
More information about the Lanner FW-6440 and FW-6490 are available on the Lanner website.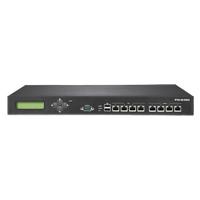 Lanner FW-6490 network appliance
Photo: Company