Lanner announces high-performance network appliance using new Intel SoCs
Press release, August 13; Ricky Morris, DIGITIMES
Lanner Electronics has announced the launch of the FW-7570 network appliance, a high-performance compact rackmount appliance built on the Intel EP80579 Integrated Processor with QuickAssist Technology system-on-chip (SoC). The system is designed as a platform for a wide range of network communication applications such as gateway security, antivirus, anti-spam, load balancing and unified threat management, highlighted the company.
At the core of FW-7570 is a 1.2GHz Intel SoC, which provides improved efficiency and lower power consumption as well as a smaller footprint, and includes an onboard encryption engine that offloads security functions from the core, further reducing the load on CPU resources.
"Intel's integration of security accelerators in their new SoC has provided Lanner with excellent performance and power efficiency versus multi-chip solutions for our latest FW-7570 security appliance, providing many capabilities such as bulk encryption, hashing and public/private key generation," said Will Chen, CTO, Lanner.
The Lanner FW-7570 supports up to eight Gigabit networking ports, two DDR2 sockets to support up to 4GB of memory, and one 3.5-inch or two 2.5-inch SATA drive bays. It also comes equipped with multiple I/O interfaces and expansion slots including PCIe, mini-PCI, two USB 2.0 ports and one RJ45 administration console port.
The FW-7570 is available today, further product information is available at the Lanner website.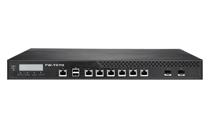 Lanner FW-7570 network appliance
Photo: Company