Lanner releases FW-8650 Unified Communication Appliance
Press release, December 4; Ricky Morris, DIGITIMES
Lanner Electronics has announced the release of the FW-8650, a Unified Communication Appliance designed for a broad array of network service applications, network security, QoS, bandwidth management, load balancing and VoIP.
"The Intel Q965 Express chipset offers features that specifically address key requirements in network service applications, such as increased memory bandwidth, faster system bus and low-power processor support," said Rose Schooler, director of marketing, embedded and communication processor division, Intel. "When combined with the Intel Core 2 Duo processor, it delivers a host of benefits that enable Lanner's customers to deploy more responsive network service appliances with increased energy-efficient performance, flexibility and scalability."
The system design focuses on scalable architecture with support for 1066/800/533 system bus processors, including Intel Core 2 Duo, Pentium 4 and Celeron D processors. The inclusion of six Gigabit LAN ports with three pairs supporting segment bypass results in a ramp up in network traffic throughput performance, highlighted Lanner.
System performance is increased through the integration of dual-channel DDR2 SDRAM with 64-bit memory addressing, providing shorter access time for data while dual expansion slots offer the ability to choose between two PCI or two PCI Express slots, giving a valuable advantage when designing an appliance for multitasking applications, said Lanner.
The FW-8650 will be available starting this month in small quantities. Further product information is available on the Lanner website.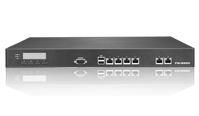 Lanner FW-8650
Photo: Company