Lanner launches mini-network appliance with VIA Eden V4 CPU
Press release, February 9; Ricky Morris, DIGITIMES
Lanner Electronics has announced the FW-6430, a cost-effective barebone network security platform equipped with onboard CPU and RAM.
Built around VIA's Eden V4 technology the FW-6430 includes integrated security algorithms through VIA's Padlock Security Suite. Moreover, with up to 256MB of RAM and 4 LAN ports on onboard, operators just simply need to add an OS via a CompactFlash socket and the unit is ready for deployment, says Lanner.
Designed for cost-sensitive SOHO and small business security applications, the Lanner FW-6430 can be easily deployed in firewall, VPN, IPS, IDS, content security and load balancing applications, the company points out.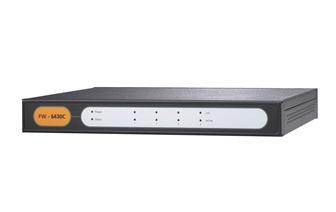 Lanner FW-6430 mini-network appliance
Photo: Company