Acer ITS installs smart parking meters in Taipei
Aaron Lee, Taipei; Adam Hwang, DIGITIMES
Acer ITS has installed in-house-developed smart parking meters along a road section in Taipei, with operation kicking off on September 6, according to the company.
The Acer subsidiary is undertaking a pilot project of smart roadside parking management commissioned by the city government.
The parking meters can detect cars moving into roadside parking spaces and recognize their license plates. When cars leave, the meters will immediately transfer information on available parking spaces to a cloud computing-based platform established by Acer ITS. The information is available to users of a company-developed smartphone app.
The smart meters have higher efficiency in parking management, providing real-time information on vacant parking spaces, Acer ITS indicated.
The 13 smart meters recently installed in Taipei are expected to handle 5,000 times of parking a month, and the data collected by the meters can help the city government understand parking behavior in the area at different times.
Acer ITS has also obtained two roadside smart parking meter projects from Tainan and Kaohsiung, both in southern Taiwan.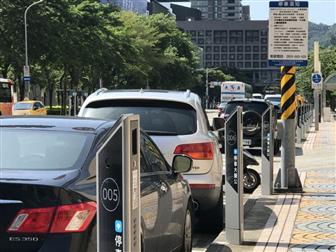 Smart parking meters installed along a road in Taipei
Photo: Acer ITS