Lanner announces new 4-bay network media server for the home or office
Press release, August 2; Ricky Morris, DIGITIMES
Thursday 2 August 2007
Taiwan-based Lanner Electronics has introduced a media storage and content server for the digital home or office. Featuring Gigabit Ethernet and IEEE 802.11g/b wireless LAN, the NS04-3100 is able to simultaneously stream multimedia content to multiple clients such as iTunes, Windows Media Center or any DLNA compliant appliance on the network, allowing users to consolidate their digital content library while still maintaining instant access to all their media, said the company.
"The consolidated media server market has witnessed considerable growth since we released the NS04-4100 storage server for the SMB market. The home storage market is now at a point where consumers are realizing the benefits and are actively seeking cost-effective solutions for sharing content in and around the home," explained Allen Chang, associate vice president, Lanner storage group. "The NS04-3100 targets this rapidly growing market by delivering performance, functionality and ergonomics at a price that reflects market demands."
Lanner's NS04-3100 4-Bay media storage server enables users to share digital media files such as video, music and images with everyone on a home or small office network. User's can store music, photos, and video collections on the NS04-3100 for safekeeping, and also enjoy the benefits of the built-in UPnP AV media server which allows the streaming of digital content to compatible media players anywhere on the network, Lanner explained.
Featuring bays for up to four SATA 3Gbps drives, the NS04-3100 supports RAID 0, 1, 5 and JBOD, enabling users to select the required level of data integrity to meet their requirements. Furthermore, the NS04-3100 can also be bundled with Lanner's backup and recovery software, adding value for business and corporate markets, the company pointed out.
The NS04-3100 specifications are available on the Lanner website.
The NS04-3100 is available for sampling immediately with volume shipments scheduled for September 2007.
Lanner NS04-3100 feature summary

Item

Description

Marvel 88F5281 processor

35+ MB/s file sharing performance with minimal power draw

Large storage capacity

Four SATA drives

RAID data protection

RAID 0, 1, 5 and JBOD

DHCP and FTP server

Easy network integration

UPnP AV and iTunes server

Stream music directly to iTunes or network media device

OS Support

Windows 2000/XP/Vista, Linux and Mac OS X

System backup and restore

Optional software package for business orientated clients
Source: Company, compiled by Digitimes, August 2007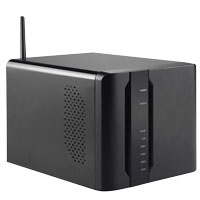 The Lanner NS04-3100 is able to stream multimedia content to multiple clients on the network
Photo: Company