Heraeus Photovoltaics continues to drive PV efficiency to bring greater benefits to industry and future generations
DIGITIMES staff
At the recent 2018 SNEC International Photovoltaic Power Generation and Smart Energy Exhibition & Conference in Shanghai, Dr. Weiming Zhang, Executive Vice President and Chief Technology Officer, Heraeus Photovoltaics, announced the company's new Hecaro - a revolutionary electrically conductive adhesive (ECA) that contains <50% silver but delivers performance equivalent to high silver ECAs.
As a global leading provider of metallization pastes, Heraeus Photovoltaics endeavors to expand its presence across the photovoltaics (PV) value chain through technology innovations and strategic transformation.
The launch of Hecaro not only is the result of Heraeus Photovoltaics' efforts to transform to a supplier of "Beyond Paste" solutions but also represents its commitment to strengthening R&D capabilities and enhancing product quality for the PV industry.
During an interview, Dr. Zhang said in earnest only through continuing R&D efforts can Heraeus Photovoltaics keep pushing the efficiency of clean PV energy. Heraeus Photovoltaics will strive to make utmost contributions to sustainable developments of the industry and future generations until one day when photovoltaic panels become standard household systems and the clean energy ecosystem shows significant improvement. The following is a highlight of the interview.
Q: Could you highlight the new Heraeus Photovoltaics products and services making a grand debut at SNEC 2018? Why is Heraeus Photovoltaics introducing these new offerings? What are their characteristics and main features?
A: This year we are launching at full blast an advanced electrically conductive adhesive (ECA) named Hecaro with a less than 50% silver content, the lowest on the market. It delivers performance on par with high silver content ECA at a superior cost structure. Customer responses have been very positive. Solar shingle suppliers will enjoy cost savings and enhanced reliability.
Aside from savings on total costs, Hecaro is designed with optimizations for screen-printing to offer fast curing and long-term reliability. We think screen-printing will become the mainstream technology for solar shingles, which will give rise to Hecaro's widespread adoption as the interconnection material for advanced solar cells [e.g. shingles, heterojunction technology (HJT) modules and interdigitated back contact (IBC) solar cells].
To keep up with market trends, many vendors in the PV industry are seeking a partner that can provide them comprehensive products, solutions and technical support to help them simplify and streamline their process. In view of this, Heraeus Photovoltaics offers new Cell Optimization Service (COS) to further boost PV cell efficiency, analog property and manufacturing process optimizations by engaging in close collaborations with world-leading research institutions in Germany and Singapore to help customers break through technological bottlenecks through forecasts based on big data analytics on past success stories.
Q: The launch of these new solutions indicates Heraeus Photovoltaics is undergoing a strategic transformation. In general, businesses under market pressure have difficulty making long-term strategies. What is Heraeus Photovoltaics' main idea in this respect?
A: Having already established itself as a global leading provider of metallization pastes, Heraeus Photovoltaics will expand the range of applications for its innovations and thereby benefit the PV value chain by engaging in strategic transformation. I also recently spoke at the CTO forum that Heraeus Photovoltaics is keen to form strategic alliances with customers and work together in the long run to continuingly lower the total cost per-watt for the PV industry. To achieve this goal, Heraeus Photovoltaics devotes tremendous resources to research, expands its professional work force and tailors its services to suit customer needs.
Heraeus Photovoltaics continues to help the PV industry set new world records of PERC cell efficiency with its technology innovations, which is a solid contribution to clean energy development and environmental protection, allowing the PV industry to maintain healthy and sustainable development and future generations to have a clean and safe environment.
Q: According to IHS Markit, global solar photovoltaic demand is forecast to reach 108GW in 2018, propelled by strong demand in China. This marks a major milestone as China, the largest PV market in the world, is transitioning toward "smart manufacturing." What is Heraeus Photovoltaics' plan to boost its presence in China for the next three to five years? How much growth do you expect in your China business?
A: Global PV installations totaled 100GW in 2017, among which 50GW was installed in China, surprisingly topping market expectations. The China market accounts for half of worldwide investments in energy storage technologies. Chinese battery makers produce a capacity three times the amount generated by the rest of the world. The country's investments are beginning to create results. The average price of a battery pack continues on a downward trend, decreasing to US$209/kWh in 2017, down 24%.
Aside from China, Africa, the Middle East, South America and India are also exhibiting growth potential. It is forecast that 14 to 15 countries/regions will install more than 1GW. The industry is showing healthy growth.
The China market enjoyed a whopping 230% increase in distributed PV grid-connected power generation just in the first quarter of this year. We expect this to drive future growth in China in the years to come. Operating in small areas, distributed PV power generation requires solar cells to have higher conversion efficiency, cost effectiveness and product reliability, particularly the polysilicon material. Vendors with the capability to guarantee premium quality will have competitive advantage. As local governments in China, especially the Jiangsu province and the Yangtze Delta region, actively enforce their solar energy policies, we think the domestic demand will grow even stronger when PV components become more cost-effective and affordable by 2020.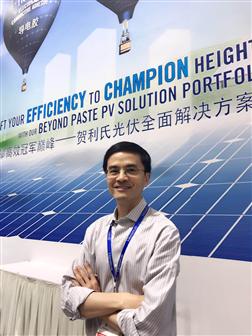 Dr. Weiming Zhang, executive vice president and chief technology officer, Heraeus Photovoltaics
Photo: Digitimes, June 2018