Heraeus Photovoltaics maintains leading edge, continuing to drive solar energy developments
Press release
The PV industry has been in a continuing pursuit of higher and higher solar cell conversion efficiencies. Providers of metallization pastes play an instrumental role helping drive the advances. The efficiency of solar cells improves at the rate of 0.3% to 0.4% a year, of which 0.2% is enabled by metallization pastes.
As a global leading provider of metallization pastes, Heraeus Photovoltaics continues to devote tremendous resources to delivering the latest R&D achievements helping boost solar cell conversion efficiencies. The company has recently announced its new product Hecaro - a revolutionary electrically conductive adhesive (ECA) that contains <50% silver. Offering products with the lowest silver content and the most compelling cost structure on the market, Hecaro provides a promising alternative technology for the interconnection of solar cells.
New ECA with lower silver content
Using a smaller amount of the precious metal silver helps reduce the costs of producing solar energy. Dr. Weiming Zhang, executive vice president and chief technology officer, Heraeus Photovoltaics, emphasizes, "Hecaro with a less than 50% silver content delivers performance on par with high silver content ECA while enabling higher stability. Customer responses have been very positive. Solar shingle suppliers will enjoy cost savings and enhanced reliability." Dr. Zhang led the research and development of Heraeus Photovoltaics' metallization paste projects in 2006, which later went into commercial production. Dr. Zhang also headed the research and development of Heraeus Photovoltaics' first-generation silver paste for c-Si solar cells, which became available in 2007.
In addition to fast coating, Hecaro is designed with optimizations for screen-printing to offer fast curing and long-term reliability. Screen printing for c-Si solar cells presses metallization paste onto a silicon plate through a mesh screen to form circuits or electrodes.
Higher-performance silver paste for advancing screen-printing technologies
Endeavoring to become a supplier of "Beyond Paste" solutions, Heraeus Photovoltaics makes all efforts to deliver more advanced and cost-effective technologies so as to join forces with customers in promoting widespread use of solar energy. Aside from silicon, silver accounts for the largest portion of solar cell material costs. As such, the global PV industry is working toward the goal of reducing silver use. According to ITRPV roadmap, silver paste remains the main metallization material used in c-Si solar cells. Average silver consumption on a 156X156 mm cell is 100mg, representing about 20% of the total costs. With the whole industry looking to reduce the use of silver, silver consumption is estimated to go down to 40mg per cell by 2026.
Solar cell producers, print screen providers and equipment suppliers are all working toward reducing the use of silver in the screen printing process. For example, mesh pore sizes have gone from 45μm down to 30μm and even 25μm. This introduces challenges for silver paste suppliers to come up with silver pastes for ultra-fine line printing, superior ohmic contact, optimal gridline resistance and better printability. Heraeus Photovoltaics is able to stay ahead of the competition in the R&D of silver pastes so it can quickly cater to customers' needs in advanced solar energy developments.
Celebrating a decade of developments in Taiwan, Heraeus Photovoltaics marks a milestone of 800 tons in silver paste shipment
Heraeus Photovoltaics, headquartered in Hanau, Germany, operates business in the environmental, energy, electronics, health, mobility and industrial application sectors. Attaching great importance to the Greater China markets, the company currently has 20 subsidiaries and more than 2,600 employees throughout the Greater China regions.
In particular, Heraeus Photovoltaics began its solar energy operation in Taiwan 10 years ago, setting up a branch office and technical service labs, followed by a rear-side silver paste production line in 2012 and a front-side silver paste production line in 2015. With a decade of accomplishments, Heraeus Photovoltaics has shipped an accumulated total of 800 tons of silver paste to the local Taiwan market, securing its market leadership in the Greater China regions and even in Asia Pacific.
Heraeus Photovoltaics will continue to strengthen its operation in Taiwan and devote more resources to helping customers push forward their solar cell developments. Dr. Zhang points out, "Taiwan-based vendors have maintained leading positions in solar energy technologies. For them to cope with price cutting competitions from vendors in other parts of the world, Taiwan-based vendors have to set themselves further apart from their rivals by developing even more advanced technologies. Heraeus Photovoltaics will continue to collaborate with customers in Taiwan to jointly push the PV industry to new frontiers." With the Taiwan government setting a target of 20GW PV installations by 2025, Heraeus Photovoltaics is optimistic about the steady growth of Taiwan's solar energy sector.
"For more than a decade of developments, solar power has gone from an unpopular energy source to a mainstream energy form today. This is not easy. We sincerely hope the PV industry can focus attention on raising efficiency and communicating with governments around the world, rather than only on cutting costs. This way, the industry will be able to sustain long-term growth," indicates Dr. Zhang. Heraeus Photovoltaics is prepared to form strategic alliances with customers for long-term collaborations to lower cost per watt, thereby promoting widespread use of solar energy.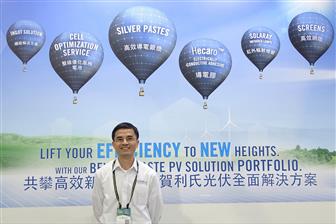 Dr. Weiming Zhang, executive vice president and chief technology officer, Heraeus Photovoltaics
DIGITIMES' editorial team was not involved in the creation or production of this content. Companies looking to contribute commercial news or press releases are welcome to contact us.