Suss MicroTec teams up with ITRI for development in 3D integration
Press release; Jessie Shen, DIGITIMES
Tuesday 6 October 2009
Suss MicroTec, a supplier of process and test solutions for the semiconductor industry and related markets, has announced that it is engaging with the Industrial Technology Research Institute (ITRI) in Taiwan on the development of 3D integration technologies.
Ad-STAC (Advanced Stacked-System Technology and Application Consortium), a multinational research association led by ITRI, will implement Suss MicroTec's 300mm lithography cluster LithoPack300 and 300mm bond cluster CBC300 in its 300mm demo production line at ITRI's site in Hsin-Chu, Taiwan.
Ad-STAC aims at driving technology advances for industrial development in the field of 3D Integration. The group consists of 12 multinational companies working to install what it claims is the world's first 300mm demo-production line to solely target 3D R&D.
The Suss MicroTec LithoPack300 integrates two latest generation 300mm photolithography modules, the MA300 Gen2 mask aligner and the ACS300 Gen3 spray coater, in one system. The CBC300 is a modular wafer bonding platform configured to run the latest fusion bonding techniques with plasma activation, thermo compression bonding including copper-to-copper (CuCu) bonds for 3D integration. It offers temporary bonding using the latest generation adhesives specifically designed for the 3D applications, the company detailed.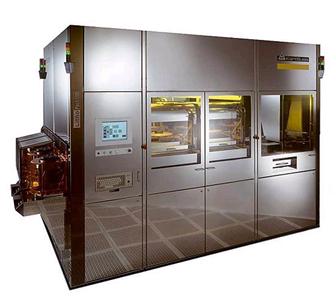 Suss MicroTec LithoPack300 cluster
Photo: Company