Thermaltake introduces BlueOrb FX CPU cooler
Press release, April 4; Eric Mah, DIGITIMES
Thermaltake recently announced its latest BlueOrb-series CPU cooler, the BlueOrb FX, designed specifically for those looking to modify or overclock their PC.
Based on the cooling capability of the BlueOrb II, the BlueOrb FX adds an LED display function to show the current temperature of the fan and noise level around the fan. The over-sized but silent 120mm blue LED fan not only provides ambient lighting that illuminates the inside of the chassis but also provides real time system status, according to Thermaltake. The CPU cooler supports Intel LGA 775 and all AMD AM2 CPUs.
The patented radiant design not only cools the CPU but also helps to cool the surrounding VRM as well. The crotched fin design allows BlueOrb FX to have a aluminum fin count of up to 140 fins which provides maximum heat dissipation, stated the company.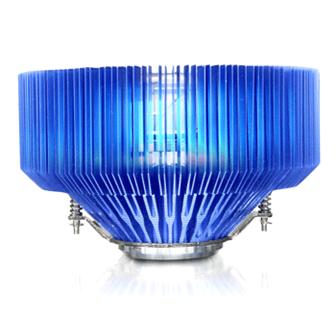 The Thermaltake BlueOrb FX CPU cooler, side view
Photo: Company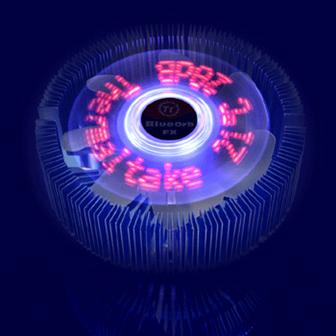 The Thermaltake BlueOrb FX CPU cooler in action
Photo: Company