Thermaltake introduces Bach Vx mid-tower chassis
Press release, January 9; Eric Mah, DIGITIMES
Wednesday 10 January 2007
Thermaltake Technology has introduced the Bach Vx mid-tower to complement the market's demand for integrated digitalized home theater personal computers. Even though there is an array of Home Theater PC (HTPC) chassis already available, Thermaltake hopes the Bach Vx will stand out both in aesthetic appeal and functionality.
The front bezel is produced from brushed aluminum covered plastic with what the company refers to as "piano black" accents on the CD-ROM cover and borders. The design tries to be different from traditional boxy designs and so has accent curves on the top and bottom of front bezel, says the company.
Internally, the Bach Vx offers four 5.25" drive bays, two exposed 3.5" drive bays and five hidden 3.5" HDD bays. In addition, an eSATA port, along with two USB 2.0 and HD audio ports are provided.
As with the Soprano Dx chassis reported on previously, the Bach Vx features a removable HDD cage along with tool-less mounting mechanisms for the expansion slots and bay drives. Also, as with the other chassis, the Bach Vx incorporates a two-fan (14cm/12cm) push/pull cooling system, and Thermaltake will also offer an optional side panel with an additional 23cm fan.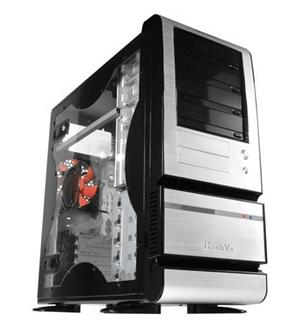 Thermaltake Bach Vx mid-tower chassis
Photo: Company