Thermaltake unveils Max4 3.5-inch external HDD enclosure with eSATA
Press release, February 15; Rodney Chan, DIGITIMES
Thursday 15 February 2007
Thermaltake Technology has introduced its latest addition to the Max4 series of external HDD enclosures – the 3.5-inch Max4 with eSATA and USB 2.0 interfaces. The eSATA (external Serial ATA) technology allows data transfer offers speeds up to a 300MB/s or 3Gb/s – up to five times faster than existing external storage enclosures such as USB 2.0 and/or 1394a, says Thermaltake.
With 3.5-inch hard disk drives having already broken the 1TB (1,024 GB, 1 Terabyte) barrier and with disk rotational speeds above 10,000rpm, the Max4 allows both enterprise and home users to conveniently backup important files, songs, videos or pictures, says Thermaltake.
However, with the increases in speed and capacity, thermal management also becomes a crucial aspect when designing an external enclosure, according to the company. To help dissipate heat buildup inside the enclosure and to maintain an optimal operational temperature for the hard disk, an 80×80×15mm low profile and ultra-quiet fan is included in the Max4.
Finally, the Max4 eSATA also includes an aluminum stand for vertical placement, Thermaltake adds.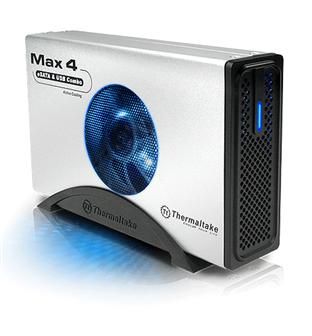 Thermaltake Max4 with eSATA
Photo: Company