Thermaltake introduces Cyclo Series fans
Press release, April 4; Eric Mah, DIGITIMES
Thermaltake Technology has announced its Cyclo Series of specialized fans with attractive LED lighting.
The Cyclo Series fans will be available in two categories, Logo and Pattern, both with 120×120mm and 80×80mm specifications. Both 120mm and 80mm fans are engineered with a low-noise bearing mechanism to minimize overall noise output at 17dBA and 19dBA, and the transparent shield cover not only protects user from being accidentally hurt by the fan blade but also extending the reliable life span of the fan, noted the company.
During operation, Cyclo Logo Series fans utilize a built-in LED placed uniquely to display "Thermaltake" wording, current temperature and noise level at the same time and have a blue LED in the background to further enhance the overall visual effect.
Cyclo Pattern Series fans are available in Blue or Red. Both fans will display over ten patterns during operation utilizing the built-in LEDs.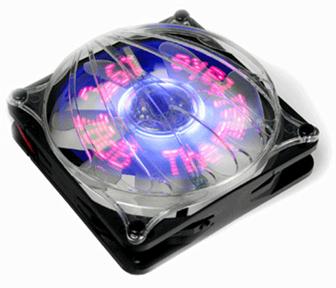 The Thermaltake Cyclo 120mm Logo fan
Photo: Company