Thermaltake introduces Lanbox Lite small form factor chassis
Press release, April 2; Eric Mah, DIGITIMES
Thermaltake recently introduced its Lanbox Lite series small form factor PC chassis.
The Lanbox Lite enables the use of standard Micro ATX motherboards, most high-end CPUs, powerful graphics cards and even a standard full-size PSU.
The Lanbox Lite is a fully modular chassis where all components may be removed from the body for easier installation, according to Thermaltake, which noted that everything from the motherboard tray to 5.25-inch bay drive cage can be removed with thumb screws.
The Lanbox Lite features a mirror-finish with a steel meshed front bezel design for greater thermal performance, stated Thermaltake.
Specifications of the Thermaltake Lanbox Lite chassis

Item

Details

Model

VF6000BWS

Case type

Gaming cube

Dimensions
(W×D×H, mm)

300×430×230

Window side panel

Window

Chassis material

SECC Japanese steel

Color

Black

Cooling System

Front: 90mm fan with blue LED × 1, 1500-rpm
Rear: 60mm fan × 2, 1800-rpm (up to 60mm fan × 3)

Motherboard

Micro ATX form factor & mini ITX form factor

Drive bays

5.25-inch × 2
3.5-inch × 3 (Exposed × 1, hidden × 2)

Front I/O

USB 2.0 × 2, IEEE 1394 Firewire, HD-Audio

Expansion slots

4

Weight

6.1kg / 13.45lb
Source: Company, compiled by DigiTimes.com, April 2007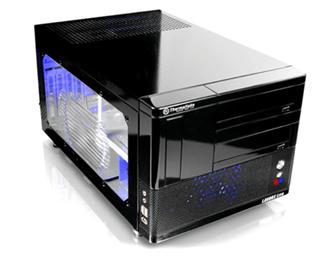 Thermaltake Lanbox Lite VF6000BWS small form factor PC chassis
Photo: Company