Thermaltake introduces MaxOrb cooler
Press release, March 22; Eric Mah, DIGITIMES
Thermaltake recently introduced its MaxOrb CPU cooler for the enthusiast segment.
Supporting Intel Socket LGA775 and AMD Socket AM2/939/754 series CPUs, the MaxOrb utilizes six independent channel heatpipes to dissipate heat through the radial fins of an aluminum radiator. The six cooling pipes are attached to the cooler's copper base plate which has a mirror-finish to ensure close thermal contact with the CPU. A built-in fan with a blue LED light ensures that a constant stream of air passes through the radiator fins while casting cool illuminations on the workings of this cooling system.
Thermaltake claims the MaxOrb makes only 16dBA of sound while operating at minimum speed. The also fan has an adjustable speed control to provide more performance for overclocking operations, noted the company.
Thermaltake MaxOrb specifications

Item

Details

Compatibility

Intel Core 2 Extreme (socket LGA775)
Core 2 Quad (socket LGA775)
Core 2 Duo (socket LGA775)
Pentium D (socket LGA775)
Pentium 4 (socket LGA775)
Pentium (socket LGA775)
Celeron D (socket LGA775)
Celeron (socket LGA775)

Athlon 64 F2 (Socket AM2/939)
Athlon 64 X2 (Socket AM2/939)
Athlon 64 (Socket AM2/939/754)
Sempron (Socket AM2/754)

Dimensions (l×w×h,mm)

143×144×95.2

Heatsink material

Copper base and aluminum fins

Fan dimensions (l×w×h,mm)

120×120×25

Power input

3W

Fan speed

1,300-2,000rpm

Maximum air flow

86.5CFM

Maximum air pressure

2.22mmH2O

Noise

16dBA-24dBA

Live expectancy

50,000 hours

Connector

3 pin

Weight (g)

465
Source: Company, compiled by DigiTimes.com, March 2007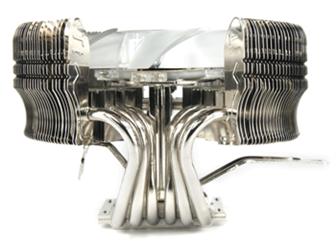 The Thermaltake MaxOrb CPU cooler
Photo: Company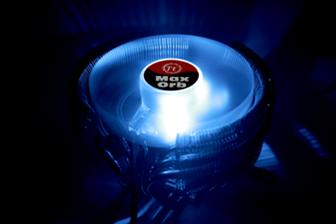 The Thermaltake MaxOrb CPU cooler glows with a blue LED light
Photo: Company