Thermaltake announces 3.5-inch SATA HDD rack
Press release, August 16; Eric Mah, DIGITIMES
Thursday 16 August 2007
Thermaltake Technology recently announced its 3.5-inch Max4 SATA HDD rack, which can be easily installed in any 5.25-inch drive bay and supports all of today's mainstream SATA hard disks with a transmission speed of up to 3Gb/s.
Patented designed connectors reduce poor attachments from the HDD to the SATA interface, thereby increasing the life of the interface disconnect/removal up to 50,000 times. The smart ejection mechanism on the rack provides gentle and smooth insertion and ejection of hard drives, according to Thermaltake.
Front panel ventilation holes on the Max4 SATA HDD rack are designed to maximize the lifespan of the HDD by keeping it cool, even in a state of continuous use, stated Thermaltake. The design and surface of the Max4 HDD rack compliments any color computer chassis, noted the company, adding that the fan-less design reduces noise and LEDs display status and power information of the rack. The HDD rack also has an anti-theft lock allowing for safe storage and security, stated Thermaltake.
Thermaltake 3.5-inch Max4 SATA HDD rack specifications

Item

Details

Product number

N0023SN

Case type

3.5" SATA HDD

Weight

470g

Dimension

42×149×184mmí@

Material

Stainless and plastic

Interface

SATA to SATA

SATA compatibility

SATA-II, SATA-I

Transfer rate

3Gb/s

Power source

4 pin Molex power connector

Accessories

SATA and power management cable

Security keys

Screws

Manual
Source: Thermaltake, compiled by Digitimes, August 2007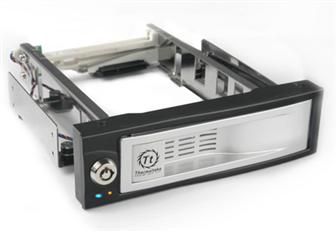 Thermaltake 3.5-inch SATA HDD rack
Photo: Company