Thermaltake launches iXoft fanless notebook cooling pad
Press release, February 6; Eric Mah, DIGITIMES
Thermaltake Technology recently announced the launch of its iXoft Fanless Notebook Cooling pad, a completely fanless, passive, ultra-portable cooling device.
The key to the iXoft Fanless Notebook Cooling pad is Thermaltake's patented Heat Shift Technology which consists of phase change material that exhibits cold and solid properties when not in use, but transforms into a liquid when dissipating heat away from a heat source, noted the company.
Upon contact with a heat source, such as a notebook computer, iXoft quickly conducts heat away from the source and accelerates thermal dissipation by distributing the heat across all available surfaces on the iXoft and into the surrounding environment through natural convection, according to Thermaltake. All of this is done without any moving parts which guarantees iXoft can operate continuously without consuming battery power from the notebook and without producing any noise, says Thermaltake.
The iXoft is one of the world's lightest notebook coolers available and can additionally be folded for easy transportation and storage, according to Thermaltake.
The iXoft Fanless Notebook Cooling Pad is available in black or white.
Specifications of Thermaltake's iXoft passive notebook cooling pad

Item

Details

Product number

R15ON01

R15ON02

Color

Black

White

Weight (g)

640

Dimension (mm)

353×305×12

Material

Sodium sulfate decahydrate Na2SO4.10H2O

Noise level

0 dBA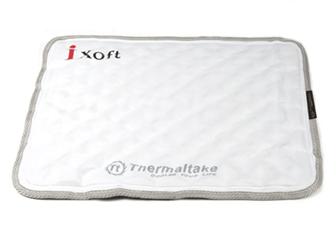 Thermaltake's iXoft passive notebook cooling pad
Photo: Company