New business model and strategies in China's smartphone market - Another kind of Android
Danny Kuo, DIGITIMES Research, Taipei
Android's open strategy and rapid progress has resulted in the emergence of a wide variety of Android iterations. On the hardware front, there are both Google-certified phones and tablets; while on the software front, there are also a number of customized and alternative versions of Android that use different interface designs. This Special Report examines how China-based vendors are also actively developing and evolving Android in a variety of ways for their own purposes.
Abstract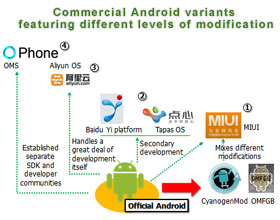 Google's open approach to Android's source code has enabled the operating system (OS) to grow rapidly in the smartphone market. Virtually all market research carried out on the subject shows that Android became the number one mobile OS by market share in 2010 or 2011, with shipments of devices running second-place iOS less than half the figure for Android.
Google's open policies may have helped Android to take the top spot in the market, but they are also a potential weakness of the platform. Some vendors have made modifications or additions to the functionality and interface of Android out of concern that the plain "vanilla" version of the OS was not sufficiently competitive with iOS or other mobile platforms in these areas. These modified versions in some cases already diverge significantly from standard Android, and can therefore be regarded as Android variants or "mods."
Besides competing with non-Android platforms, Android handset vendors' other primary motivation for modifying Android is the desire to make their products more competitive and distinctive within the Android market itself. The use of modifications to Android as a means to differentiate products also extends to telecom carriers and ecommerce companies who aim to use such modifications to expand the size of their original businesses and increase profits.
There are also pure enthusiast "mods," as well as variants created by smaller companies and startups hoping that their own distinctive modifications will allow them to achieve more rapid growth in the crowded smartphone market.
So are modifications to Android a good thing or a bad thing for the Android ecosystem as a whole? Do they create new markets that do not conflict or overlap with the original, official Android OS, or do they make the official Android market more chaotic and sow the seeds of future problems in the development of Android as a whole? Moreover, what is Google's view of these variant versions of Android? On the one hand, Android variants could bring models and ideas for new functions and features, but on the other hand could weaken Google's hold over app developers and eventually end users.
Even more importantly, the majority of commercially-oriented Android variants were created by companies in China. A key question is therefore whether Android variants can repeat the industry-changing success of China's white-box handset industry.
Table of contents
Price: NT$48,000 (approx. US$1,685)