Yageo claims smallest GPS antenna for handheld devices
Press release; Jessie Shen, DIGITIMES
Friday 23 April 2010
Yageo, Taiwan's largest maker of passive components, recently announced the release of what it claims is the industry's smallest ceramic chip antenna (PIFA mode) for use in high-end handheld GPS devices, such as mobile phones, PDAs, portable navigation devices, notebooks and mobile internet devices.
Samples of the new chip antenna were delivered to customers earlier in 2010, said Yageo, adding that mass production began in March.
The new Yageo 3216 ceramic PIFA GPS antenna features ultra compact volume and high-performance with a dimension of 3.2×1.6mm. The antenna supports a central frequency of 1.575GHz, performing on par with CP GPS antennas. Moreover, the use of SMD packaging along with the compact size of the component makes it easier to mount on circuit boards, thus effectively reducing manufacturing costs, Yageo said.
"The miniaturization of GPS devices is already an irrevocable trend and built-in GPS functions are an integral part of new generation smartphones," Yageo said in a statement. "One of the more pressing concerns for mobile phone manufacturers is coming up with stable GPS functions for the limited design space."
Another point worth mentioning is the design refinement of the 3216 ceramic PIFA GPS antenna, which is a breakthrough from the traditional mono-polar circuit design mode, according to Yageo. This allows a simplified manufacturing process that results in superior product performance in both efficiency and size. Additionally, the use of coupling and parasitic effects reduces the frequency, thus strengthening low frequency performance.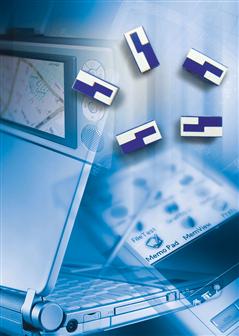 Yageo 3216 ceramic PIFA GPS antenna
Photo: Company