Intel, Micron to ship 3-bit per cell NAND flash in 4Q09
Press release; Jessie Shen, DIGITIMES
Intel and Micron Technology have jointly announced the development of a new 3-bit per cell multi-level cell (MLC) NAND technology for consumer storage devices such as flash cards and USB drives, with mass production slated for the fourth quarter of 2009.
The new 3-bit per cell technology, developed by the two companies' joint venture IM Flash Technologies, produces 32-gigabit (Gb) chips using 34nm process technology. Micron is currently sampling the chips measuring only 126 square millimeters, the company said in a statement.
"We see 3bpc NAND technology as an important piece of our roadmap," said Brian Shirley, vice president of Micron's memory group. "Today's announcement further highlights that Micron and Intel have made great strides in 34-nanometer NAND, and we look forward to introducing our 2xnm technology later this year."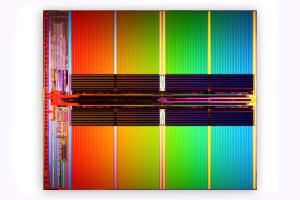 Micron and Intel 34nm 3-bit per cell NAND technology
Photo: BusinessWire