Thermaltake announces TMG ND4 cooler for Nvidia 8800GTX cards
Press release, April 24; Eric Mah, DIGITIMES
Thermaltake Technology recently announced its TMG ND4, a water-cooling solution for Nvidia 8800GTX graphics cards.
The ND4 waterblock removes heat from the graphics processing unit (GPU) and dissipates it through the Thermaltake TideWater (integrated radiator, reservoir, and mini pump). A silent LED fan equipped on the ND4 makes only 18dBA of noise, and the all copper waterblock and aluminum base dissipate heat from both GPU and memory of the graphics card. A special fan shroud concentrates the airflow and focuses the air towards hotspots for better cooling capability, noted Thermaltake.
The TMG ND4 was adopted by Asus to bundle with its 8800GTX AquaTank VGA card. This combination of high-end liquid cooling graphics card was tested to be 11% faster than other 8800GTX cards and at least 12-degrees cooler, according to Thermaltake.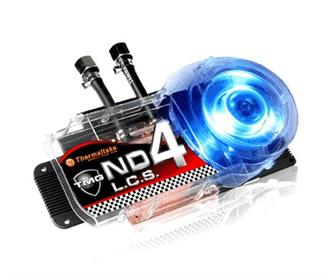 The Thermaltake TMG ND4 cooler for Nvidia 8800GTX cards
Photo: Company