Thermaltake announces Muse OTB2.5 one touch backup enclosure
Press release, July 26; Eric Mah, DIGITIMES
Thermaltake Technology recently announced its Muse OTB2.5 a 2.5" eSATA and USB enclosure that comes with the company's One-Touch Backup function.
The Muse OTB2.5 has both a USB and eSATA interface with a eSATA transfer speed reaching as high as 3Gbps. The USB2.0 interface is hot-pluggable and backwards compatible with USB1.1, allowing users to travel around the world without having to worry about incompatibility issues, according to the company.
The Muse OTB2.5 includes Thermaltake's exclusive "T-backup" software. As long as the backup folder has been set up, anyone can back up data with the touch of a fingertip or schedule regular backups, said the company.
The design of the enclosure was improved over previous models by increasing durability, reducing vibrations and revamping the chipset, according to Thermaltake, adding that LED indicator lights lets the user know the status of data transfers.
The Muse OTB2.5 has a suggested retail price of US$58 and will be available worldwide in mid-September, according to the company.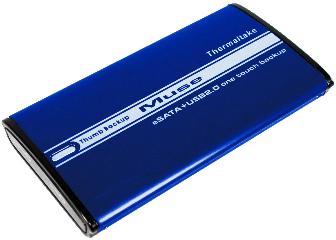 Thermaltake's Muse OTB2.5 a 2.5" eSATA and USB enclosure
Photo: Company