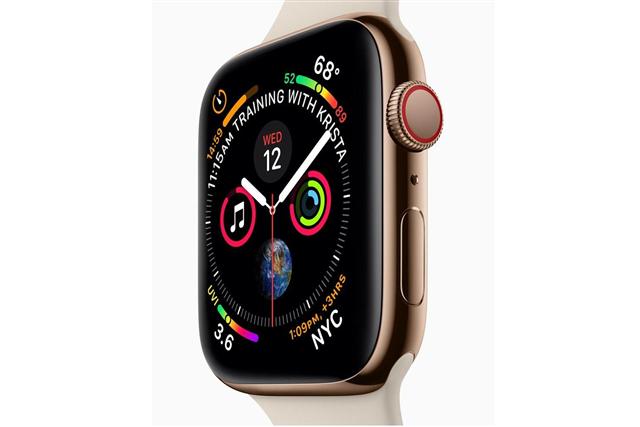 Apple Watch Series 4, retaining the original design, has been refined, features a new display, electrocardiogram and fall detection. It combines new hardware and software enhancements, and the display is over 30% larger.
Apple Watch Series 4 with watchOS 5 brings advanced activity and communications features, along with health capabilities, including a new accelerometer and gyroscope, which are able to detect hard falls, and an electrical heart rate sensor that can take an electrocardiogram (ECG) using the new ECG app,1 which has been granted a De Novo classification by the FDA, the vendor said.
It is offered in two sizes, 40mm and 44mm. The speaker is 50% louder, optimized for phone calls, Siri and Walkie-Talkie, and the microphone has been relocated, to reduce echo for better sound quality, Apple said. The device includes the next-generation S4 chip with a custom 64-bit dual-core processor, delivering twice the speed while maintaining the same all-day battery life.
The back of Apple Watch Series 4 is composed of a black ceramic and sapphire crystal, allowing radio waves to easily pass through the front and back for better cellular service. The Digital Crown now includes haptic feedback, offering a more mechanical and responsive feel through the sensation of incremental clicks.