Congatec COM Express Type 6 module
Photo: Company
Tuesday 20 March 2018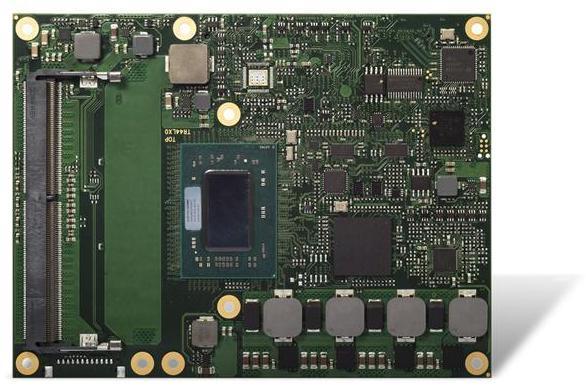 Congatec's Conga-TR4 COM Express Type 6 module is based on the new AMD Ryzen Embedded V1000 processors. Setting a new benchmark for high-end embedded computer modules, AMD Ryzen Embedded V1000 processors deliver up to 3X more GPU performance than competitive solutions, and up to 2X increase in performance over previous generations, according to Congatec.
With a TDP that is scalable from 12W to 54W, Congatec products based on these new processors can benefit from multiple performance leaps across the TDP range and enormous optimization potential with regards to size, weight, power and costs (SWaP-C) at high graphics performance.
The new Congatec COM Express basic modules are designed for the development of embedded computing systems with impressive graphics performance for applications such as medical imaging; professional broadcasting, infotainment and gambling; digital signage; control rooms and video surveillance; optical quality control; and 3D simulators. Other applications include smart robotics and autonomous vehicles that use deep learning to optimize their situational awareness.